Ancelotti: Vinicius showed he is a great player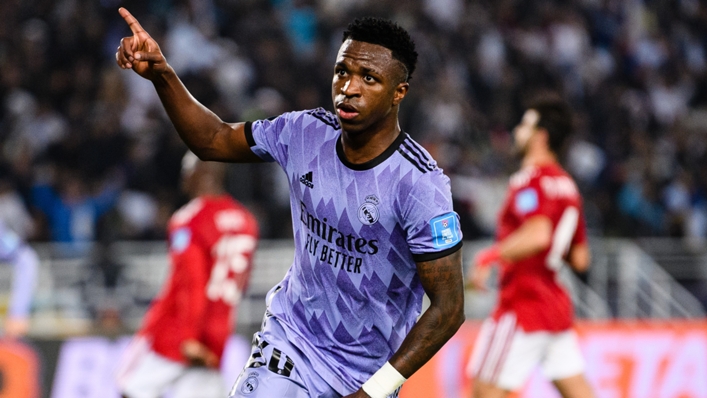 Carlo Ancelotti saluted the performance of Vinicius Junior in Wednesday's Club World Cup win over Al Ahly as the Real Madrid forward managed to ignore the recent furore around him.
Vinicius has been become a regular target for racist abuse from fans this season, with footage on social media appearing to show discriminatory remarks being directed at him during Madrid's 1-0 defeat to Real Mallorca on Sunday.
LaLiga launched an investigation into that incident the following day, though it was by no means the first example of Vinicius being abused this term.
The 22-year-old was subjected to racist chanting in both of Madrid's matches with city rivals Atletico Madrid, while LaLiga filed hate crime charges to Spanish courts after similar incidents in December's game with Real Valladolid.
Ancelotti subsequently insisted such treatment is indicative of a wider problem in Spanish football.
Vinicius went on to play a starring role as Madrid beat Al Ahly 4-1 in Rabat to reach the Club World Cup final, and Ancelotti was asked if being away from Spain helped him feel more at ease on the pitch.
"He likes to play football to the best of his abilities wherever he is, always," Ancelotti said of the 22-year-old, who put Madrid ahead with one of his four attempts and also created three chances.
"Today, he's always tried. He played a complete game, he was always dangerous and he scored a fantastic goal.
"He's been the Vinicius that you've seen in many games. He has shown again what he is, and that is a great player."
Luka Modric had a penalty saved in the latter stages on Wednesday when Madrid were 2-1 up.
Ultimately his failure mattered little as Rodrygo and Sergio Arribas scored in stoppage time to complete a resounding victory, and Ancelotti is not going to overthink the Croatian's miss.
"I have to choose better shooters," Ancelotti joked.
"Sometimes they fail. Luka usually does well, and you have to choose the best. I have made it quite clear: Karim [Benzema], Modric and, when the others aren't there, [Marco] Asensio [are the main takers].
"It's difficult to train on penalties. The environmental factors cannot be replicated in training."
Arribas' late strike was the 21-year-old's first senior goal for Madrid, and his impact off the bench was notable due to his status as an academy player.
Homegrown youngsters have struggled to earn minutes for Los Blancos this term, particularly in LaLiga, with Eduardo Camavinga the only player aged under 21 to make a top-flight appearance for them in the 2022-23 campaign.
Ancelotti stressed the young players are not forgotten about, however.
"The youth academy is a very important aspect, no one forgets the players from the youth academy," he said. "But we must bear in mind that it's not easy to give them minutes because the level of the first-team is very, very high.
"We are evaluating [the young players], they are progressing. The academy coaches are doing a great job, and [the young players] will soon be in the first team.
"But this squad has won the Champions League – it's a very good squad."
Madrid will face Al-Hilal in the Club World Cup final on Saturday.
Tags