Ancelotti insists Vinicius is one of world's best ahead of El Clasico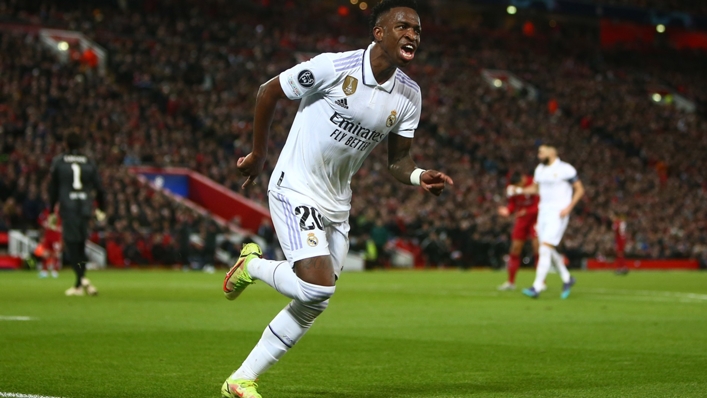 Carlo Ancelotti has labelled Vinicius Junior as one of the world's best players ahead of Real Madrid's Copa del Rey tie against Barcelona.
The Brazil international has five goals in as many games in all competitions, most recently netting a brace as Madrid came from behind to beat Liverpool 5-2 in their Champions League last-16 first leg.
He has 18 goals in 36 games overall for Madrid this campaign – only eight players across Europe's top five leagues have scored more.
Speaking at a press conference on Wednesday, Madrid boss Ancelotti refuted suggestions of an over-reliance on Vinicius and backed the Brazilian to get the better of his opposite number Ronald Araujo in Thursday's fixture.
He said: "It's a positive aspect. He is one of the best players in the world, who sometimes changes games in our favour. It's quite normal to be dependent on it.
"You don't have to say anything special to Vinicius. We are not going to change. It is true that Araujo is a very strong defender, but it will be a very entertaining duel. Hopefully, Vinicius can win it."
Real Madrid lost their most recent fixture against Xavi's side in the Supercopa de Espana final in January but have plenty of chances to exact revenge.
Sandwiched between both legs of the Copa del Rey tie is a third Classico in the league, with Madrid hoping to reduce the seven-point lead Barcelona currently have at the top of the table.
Ancelotti also provided an update on the fitness of Toni Kroos, who has started just one of Madrid's last four games.
"These are games in which you need many things, including personality and energy. It may be that because of the energy, Kroos is not in the eleven," he added.
"But we also need experience so I have to think about this."
Tags