Halsey says VAR wrong to intervene with Grealish handball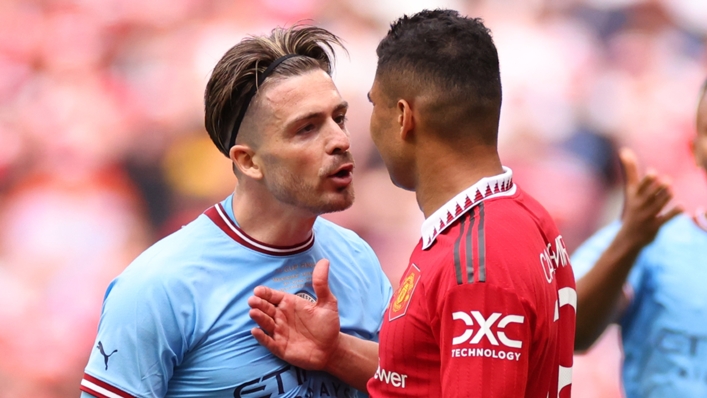 VAR was wrong to intervene in the incident which caused Jack Grealish to be penalised for handball in the FA Cup final.
That is the view of former Premier League referee Mark Halsey, who feels the Manchester City and England star had been hard done by after conceding a penalty in the first half.
There was relief for Grealish and City at Wembley on Saturday, as they went on to win the final 2-1 despite Bruno Fernandes' equaliser from the penalty spot.
That 33rd-minute spot-kick came after a VAR intervention. Aaron Wan-Bissaka headed the ball into Grealish's arm from close range as the pair battled to reach a cross-field pass from Fernandes.
The match referee Paul Tierney initially waved away strong United appeals, but VAR called him to the monitor at the next break in play.
Halsey told Stats Perform: "The problem we have at present; we have got too many inconsistencies about when to get involved or when not to get involved.
"VAR is here to stay and I think it's a great tool because we have seen many goals given where the system has then put the flag up and we have seen goals ruled out when the flag hasn't gone up and the player has been just offside, so that is factual.
"But I'm seeing many subjective decisions being recommended for review – some being recommended, some not being recommended.
"Then we have some handballs given, some handballs not given, and some holding offences in the penalty area recommend for review, some not.
"Since Howard Webb has come in I think the consistency has improved, but there is still some inconsistency there, so there's a lot of work still to be done with VAR.
"It's simple – VAR should only get involved if it's a clear and obvious error, an absolute howler. That is when VAR has to get involved."
Asked specifically about the Grealish decision, Halsey added: "If you look at the game, that incident, that passage of play, was that a deliberate act? No.
"A player that deliberately moves his hand or arm towards the ball or if they are making themselves unnaturally bigger, then they run the risk of a handball being given against him.
"But were his arms in an unnatural or natural position for that passage of play? I've played the game at very, very high levels as a semi-professional – for me his arms for that passage of play were in a natural position.
"So I think we have a problem of understanding what is natural and what is unnatural. I don't think anybody knows anymore, do they?
"Paul Tierney is there [near the incident], he has seen it and he's not given it. On that situation, it is subjective.
"So is that clear enough and obvious error by Paul Tierney for VAR to get involved? For me, no, because Paul Tierney is in a great position. He has possibly seen it and he thinks, 'Well hang on I don't think that's deliberate, I think arms are in a natural position'.
"We don't know that because we don't hear the conversation, I'm just assuming. So VAR then gets involved and I question should David Coote have got involved.
"Was it correct in law? Perhaps if he's [Coote] is refereeing his opinion is [Grealish] has made himself bigger, and his arms are in the air, and it is an unnatural position.
"But Paul Tierney the on field referee doesn't give that. So was that clear enough and obvious enough for VAR to get involved? For me, no.
"The law is an ass – we need players involved as well because it's no criticism of the referee. It's the law that needs looking at. It is the same with offside, no one knows what is or what isn't and it's the same with handball.
"There is so much subjectivity involved in handball – we have seen some awful decisions regarding handball. So it's all over the place and difficult for referees because the way the law is worded and obviously they are unsure what is natural and what is unnatural with your arms."
For Halsey, the solution to the dilemma over the handball law is clear.
He said: "Back to how it used to be, that it has to be a deliberate act. Deliberate with your arm moving towards the ball.
"None of this unnatural or natural? Was his arm up in the air? Did you make yourself bigger? It's simple – ask was that a deliberate act of handling the ball?"
Victory for Premier League winners City gave them a seventh FA Cup triumph, with Saturday's Champions League final against Inter giving Pep Guardiola's men a chance to win the treble, a feat which would match rivals United's accomplishment in 1999.
Tags