Van Dijk: Gakpo learning from the best in 'legend' Firmino
Joshua Challies
Stats Perform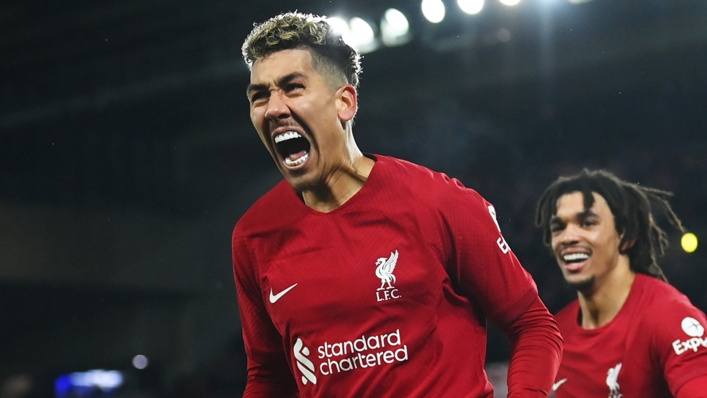 Roberto Firmino is a Liverpool legend in the eyes of Virgil van Dijk and the perfect teacher for Cody Gakpo.
Firmino has informed the Reds he will leave the club when his contract expires at the end of the season, bringing an end to eight trophy-laden years at Anfield.
The Brazil forward came off the bench to score Liverpool's final goal in the 7-0 drubbing of Manchester United in the Premier League on Sunday, his eighth in 18 appearances in the league this season.
Following a week in which Firmino's future took centre-stage, Van Dijk hailed the impact he has had on the team's success.
"You can't deny how important he's been for the success that we've had," Van Dijk told reporters.
"But as a human being as well, he's a great guy and I wish him obviously all the best after the summer.
"For now, we still have targets to reach, and he knows that, and he wants to make sure that we fulfil them as well.
"He's been so influential, and he should definitely be remembered as one of the legends."
Liverpool have already moved towards a future beyond Firmino following the mid-season signing of Gakpo, who took his Premier League tally to four with a brace against United.
The Netherlands ace has big shoes to fill on Merseyside, but with Firmino still on hand until the end of the season, he can continue to learn from the best.
"It's a very difficult position to play, but he learns from one of the best each and every day with Bobby Firmino," Van Dijk explained.
"I think that position of a false nine is Bobby Firmino's. He's the one that showed over the years how difficult it is for any other player to perform it, and also how hard it is for others to defend it.
"The winter isn't an easy time to come to a club, but Cody is settling in very well. He has to keep going, keep the confidence, keep the belief.
"I think he will be fine for this club. He's a fantastic player."
Tags