USA stars Rapinoe and Morgan back Canada women's protests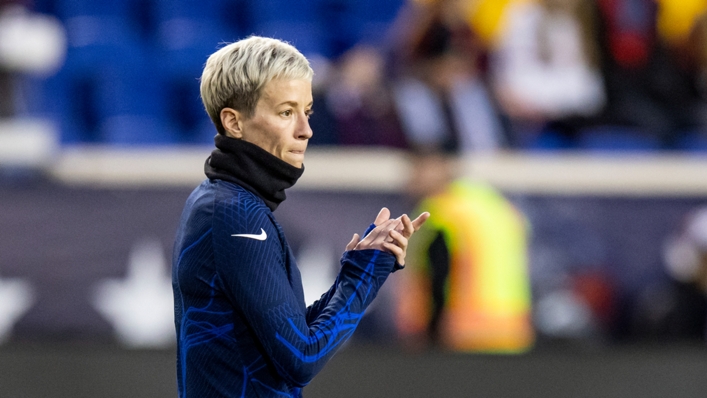 United States women's stars Megan Rapinoe and Alex Morgan launched a vociferous defence of their Canadian counterparts as they protest against their own federation.
Canada's national women's team announced on Saturday they will go on strike in pursuit of equal pay and increased funding from governing body Canada Soccer.
The players lamented an "unacceptable burden" after funding cuts and called for "immediate" change from those above them.
Canada's male players echoed a similar sentiment as they issued their own statement assuring they "wholeheartedly support" the women's protests.
Ahead of the SheBelieves Cup match between the USA and Canada on Friday, Rapinoe criticised Canada Soccer's standpoint as she backed the two-time Olympic champions' plight.
"We're talking about the Olympic champions here," Rapinoe said on Wednesday. "That was so well deserved and such a huge step forward for them.
"To have their federation meet them this way after winning a world championship is just f***ing wild to me. We're with them all the time."
Canada are sixth in FIFA's women's world rankings and viewed among the contenders for this year's Women's World Cup, where they face hosts Australia, the Republic of Ireland and Nigeria in Group B.
The USA women's side are familiar with the battle for equal pay after ending a six-year legal battle last February to secure the same financial terms as the men.
Morgan, a 201-cap international who has scored 120 times, reflected on her country's own protests over equal pay as she joined Rapinoe in backing the Canada women's team.
"Canada is just getting started, and they know the long road ahead for them, because we just went through that," Morgan added.
"I hope it's a shorter road for them, and we'll do anything possible to try and publicise what they're fighting for, and why they should achieve that."
Canada are expected to display some form of protest in the SheBelieves Cup outing, having already worn their kits the wrong way around to hide the federation badge after they returned to training this week.
Tags