Ukraine push for Russia exclusion from Euro 2024
Joshua Challies
Stats Perform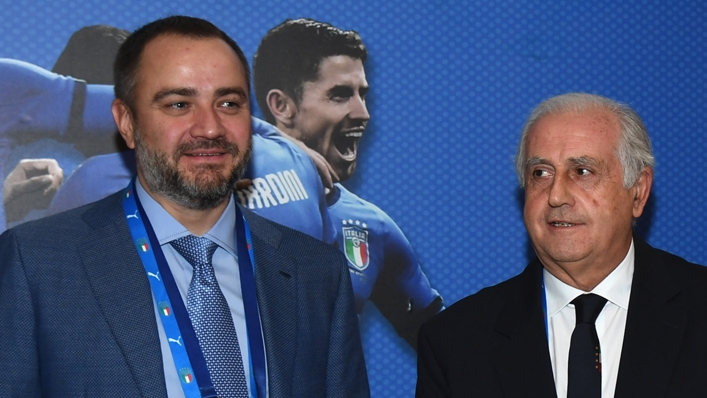 Ukrainian Association of Football president Andriy Pavelko has urged UEFA to omit Russia from qualifying for the 2024 European Championships.
Following Russia's invasion of Ukraine in February, UEFA and FIFA jointly decided that all Russian teams, both international and clubs, would be suspended from their competitions until further notice.
That ban continues into the 2022-23 season, but Russia will be able to play friendly matches, having arranged a controversial clash with Bosnia and Herzegovina on the eve of the World Cup in Qatar.
Bosnia have faced backlash for agreeing to that game, including from current players Miralem Pjanic and Edin Dzeko, with Pavelko also revealing he is doing "everything he can" to stop the game from going ahead.
In regard to qualifying for Euro 2024, the draw will be held on October 9 and Pavelko is determined for Russia to be excluded.
"UEFA's decision formally applies only to official competitions - therefore, it allows Russian football officials to negotiate the possible holding of friendly matches, but the Ukrainian Football Association immediately reacts to such attempts," he said in a statement.
"Recently we wrote letters to FIFA and UEFA with the demand to cancel the match between Russia and Bosnia and Herzegovina, scheduled for November 19.
"We also appealed to the association of Bosnia and Herzegovina, urging them to stand in solidarity with the entire civilised football world and refuse to participate in this match.
"There was also an appeal from our football legends to the players and coaches of the Bosnian national team to refuse to hold the match.
"An official decision has not yet been made regarding this game. But we are doing everything possible to prevent the match from taking place.
"We are taking similar actions in relation to the two friendly matches of the women's teams of Serbia U-17 and Russia U-17 in October.
"We are also currently making efforts at the UEFA level, the purpose of which is to prevent Russia from participating in the Euro 2024 selection draw, which is scheduled to take place on October 9 in Frankfurt.
"The aggressor country cannot be represented in competitions where the national teams of countries, unlike the Russian Federation, respect the sovereignty and territorial integrity of other states who participate."
Pavelko added that Russia should remain "completely isolated on the international stage, including football" until they "stop committing crimes" and compensate Ukraine for damages.
Tags