UEFA confirm Super League opposition in meeting with breakaway project's backers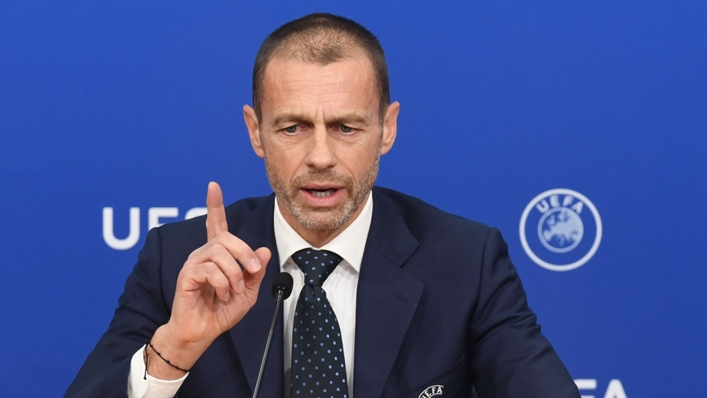 UEFA reaffirmed their opposition to the founding of breakaway competitions in a meeting with Super League backers A22 Sports on Tuesday.
It was revealed last month that media executive Bernd Reichart was heading up plans for a revival of the Super League, which endured a failed launch in the face of public and media pressure last year.
While nine of the competition's 12 founding clubs withdrew in the face of widespread criticism, Real Madrid, Barcelona and Juventus remain committed to the project.
Reichart, who represented A22 Sports at Tuesday's meeting, told the Financial Times in October there is "a lot of sympathy" for the Super League.
Following the meeting, however, UEFA declared European football's organisers remain committed to competitions based on "openness, solidarity and meritocracy".
"UEFA accommodated a meeting request from A22 Sports, a private commercial venture, today in Nyon by offering them a chance to address all the genuine representative authorities of European football," a UEFA statement began.
"Top management of UEFA, led by president Aleksander Ceferin, and high representatives from the national leagues, clubs, players and fans, stressed together that the opposition to the self-proclaimed Super League [ESL] remains overwhelming today as it has been since April 2021.
"In line with the unity of European football, UEFA and the participating football stakeholders once again unanimously rejected the rationale underpinning projects such as ESL during today's discussion.
"The participants took note, with surprise, the claims of A22 Sports' CEO that this company is not representing any clubs in any capacity, including the three clubs who continue to openly support the project.
"UEFA and football stakeholders remain committed to the foundations of European football, which are based on openness, solidarity and meritocracy and serve broader objectives of sporting principles and societal interest, rather than on privilege and self-entitlement.
"European football will continue to stand together firmly for the positive future development of the game and society."
As well as Ceferin, several big-name executives attended the meeting, including LaLiga president Javier Tebas, Paris Saint-Germain president Nasser Al-Khelaifi and Bayern Munich chief executive Oliver Kahn.
Madrid, Barcelona and Juventus have continued to call for the establishment of a Super League in recent months, and are awaiting the ruling in a legal case at the European Court of Justice after accusing UEFA of possessing a monopoly over international competitions.
Tags