Tunisia pump up the volume as Danes are left deflated in World Cup opener
John Skilbeck
Stats Perform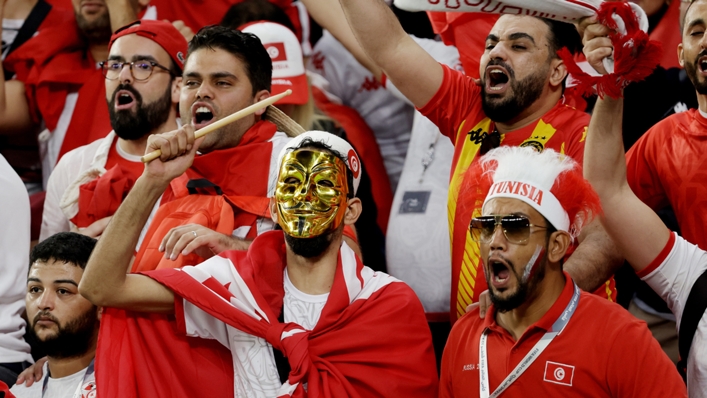 Denmark coach Kasper Hjulmand said noisy support for Tunisia "gave them wings" as his team could only scrape a 0-0 draw in their World Cup opener.
While Tunisia were lifted by their large contingent of fans at Education City Stadium, Denmark struggled to produce the form that took them to the Euro 2020 semi-finals.
Hjulmand insisted his players were not shaken by the vociferous backing for their opponents, but he acknowledged the opposition benefited from the crowd's passion.
"I've great respect for Tunisian football and how much it means for a country like Tunisia," Hjulmand said. "They did great, it was a great atmosphere. I cannot say it influenced our performance, but it definitely gave them wings.
"They made an atmosphere that was perfect for them. But we were prepared, and I cannot say that was the reason for the performance. My players have played in much tougher.
"We never said Tunisia would be a game that was easy to win for us, but we definitely had an aim of winning this one because we knew a result in this game would have helped us.
"Now it could be complicated. It's one point each, now we have two great games. We're looking forward to France, we can't wait to get started – one game at a time, next is France."
The Group D stalemate was a result that should give Tunisia encouragement. They have never gone beyond the group stage in a World Cup, so to get immediately off the mark is a great start. They face Australia next, on Saturday, before tackling France four days later.
Tunisia coach Jalel Kadri said the volume from the stands against the Danes had been inspiring.
"We know the crowd is very important for us. It's always very important mentally, it gives us a great lift, and I'm looking forward to seeing the fans continue to do that," Kadri said.
"It really helped us in terms of our game. Tactically we played very well, and we deserved the draw and we played very well.
"We played against a powerhouse of the tournament. We saw that our team performed very well. I should commend my players. Maybe we just lacked a bit of efficacy on the ground. We should have capitalised on the chances to have a better result."
Tunisia experienced a late handball scare, with Yassine Meriah fearing he had given away a penalty, but referee Cesar Arturo Ramos elected not to give a spot-kick after viewing the incident on a pitch-side monitor.
"I cannot describe my feeling," Kadri said of that moment. "The VAR has every right to intervene. Today it was in our favour – this is what football is about. We talk about decisions – FIFA decisions, VAR decisions – these have to be respected."
Tags