Tuchel hails 'controlled and serious' Chelsea performance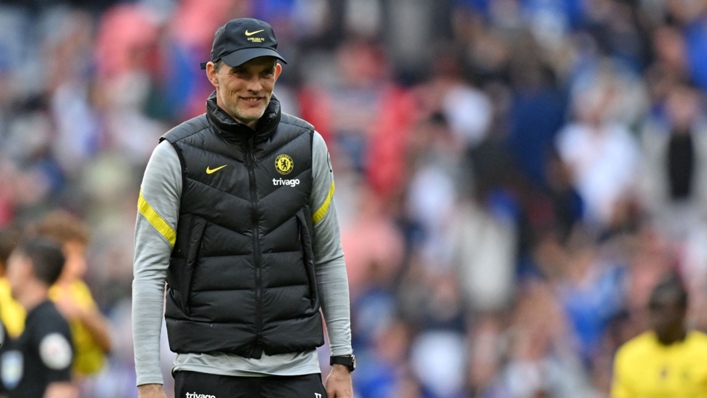 Thomas Tuchel expressed his delight with a "controlled and serious" performance that guided Chelsea into the FA Cup final.
Chelsea reached a third successive FA Cup final, matching the feat achieved by Arsenal between 2000-01 and 2002-03, with a 2-0 triumph over Patrick Vieira's Crystal Palace at Wembley.
Substitute Ruben Loftus-Cheek opened the scoring in the 65th minute with his first goal in any competition since November 2020, before Mason Mount sealed semi-final success with 14 minutes remaining.
The 2021-22 campaign now marks Mount's new-best scoring season, with his 12th strike this term surpassing his 11-goal haul for Championship side Derby County in 2018-19.
Tuchel, who has progressed from each of the 11 semi-final ties in his managerial career, congratulated his players for their efforts amid a hectic schedule, with Chelsea having slipped out of the Champions League after going to extra-time against Real Madrid on Tuesday.
"It was not easy because we played three games in three different competitions," Tuchel told ITV Sport.
"It is not always easy, very challenging physically, we are the team with the most minutes in Europe I think, it is also challenging mentally.
"I thought the performance was very controlled and very serious, we took care of their counter-attacks. It was hard, the opponent changed system twice, you cannot lose focus for a minute."
Tuchel also reserved special praise for Loftus-Cheek, who scored his first Chelsea goal since May 2019, when he netted in a Europa League semi-final against Eintracht Frankfurt.
"He [Ruben Loftus-Cheek] was very, very strong in matches against Southampton and Real Madrid, he would have deserved to start," said Tuchel.
"We knew Ruben would have a big impact off the bench. I am very happy.
"He hid his talent and potential for a long time in his career. He is capable of producing performances that everyone sees on the pitch. For him, it is step by step that he continues to grow in his confidence."
Jurgen Klopp's Liverpool stand in the way of Chelsea in the final, and it will be the second time the same two sides have competed in the EFL Cup and FA Cup showpiece events in the same season, after Arsenal and Sheffield Wednesday met in both competitions in 1992-93.
Tuchel, though, cannot wait to renew his battle with the quadruple-hunting Liverpool, who ran out penalty shoot-out victors in the EFL Cup in late February and defeated Premier League title rivals Manchester City in Saturday's semi-final.
"I am happy to be part of it again, I cannot be more excited and more proud because it is a huge competition. We will be ready," he added.
Tags