Toure predicts Haaland-Mbappe rivalry will replace Messi-Ronaldo debate
Patric Ridge
Stats Perform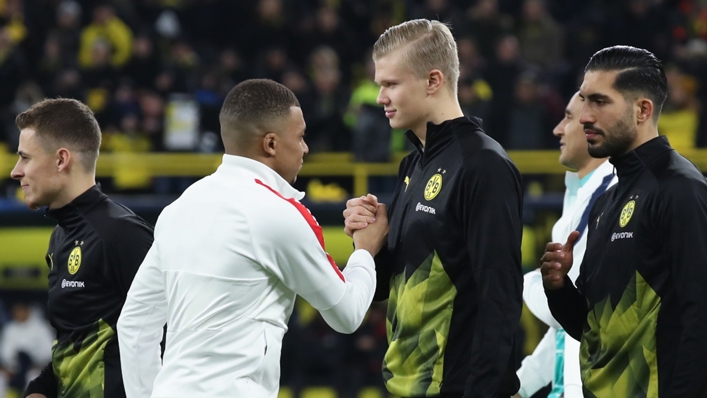 Kolo Toure sees no reason why Erling Haaland and Kylian Mbappe cannot take up the mantle of football's great rivalry.
Haaland scored his 49th goal of the season as Manchester City thrashed Arsenal 4-1 on Wednesday, while Mbappe is enjoying another stellar campaign at Paris Saint-Germain, as well as having won the Golden Boot at the Qatar World Cup.
Mbappe's 34 goals across all competitions this term is bettered only by Haaland's extraordinary tally when it comes to players from Europe's top five leagues.
With Mbappe's club-mate Lionel Messi reaching the twilight of his career and Cristiano Ronaldo having left Europe for Saudi Arabia, former City and Arsenal defender Toure has no doubt the France star, 24, and Haaland, 22, will be the players battling it out at the pinnacle of the game.
"Absolutely, absolutely. They are both incredibly great players," Toure told Stats Perform.
"Young, hungry players with big qualities, playing for top clubs. You can see that the rivalry is coming, you can feel that, because they're both goal scorers.
"They have different qualities obviously. There is one who really is a good scorer and there is one who – yeah he can score goals, but at the same time, he can provide, he can dribble.
"It's going to be really interesting to see both of them fighting, because they are the next generation, definitely."
Haaland, who supplied two assists for Kevin De Bruyne against Arsenal, lacked his usual clinical edge in the game, seeing several attempts saved by Aaron Ramsdale before he ultimately got his goal in the fifth minute of stoppage time.
That took Haaland onto 33 league goals for the season, a new record for a 38-game Premier League campaign and one away from the competition's best-ever tally of 34 (held by Alan Shearer and Andy Cole).
"He is a very dominant striker," Toure said of the Norway international.
"But, one thing I have to say is he chose the right thing for him, because he's a goal scorer and he needs to play for a team that provides him the ball.
"When you have De Bruyne, you have [Bernardo] Silva, you have [Ilkay] Gundogan, you have Jack Grealish, unbelievable players around him providing the ball, the quality they're showing to support him is incredibly great.
"That's so clever from the boy, he made the right choice.
"He got to the right team. We're going to do the work for him to just finish, because he's a finisher.
"His control, the way he handled the ball to bring the team up when Arsenal were pressing them, it was unbelievable. I saw a player who can get the ball from the feet, take the ball, dribble past two, three, three players and have a shot.
"That shows the quality he has and there's big room for him to just keep improving. He is in the right team, he has the right manager and he will keep improving definitely. But, what he has shown is unbelievable."
Tags