Tottenham 1-0 Leicester: England stunner seals precious win for Spurs
PA Sport staff
Press Association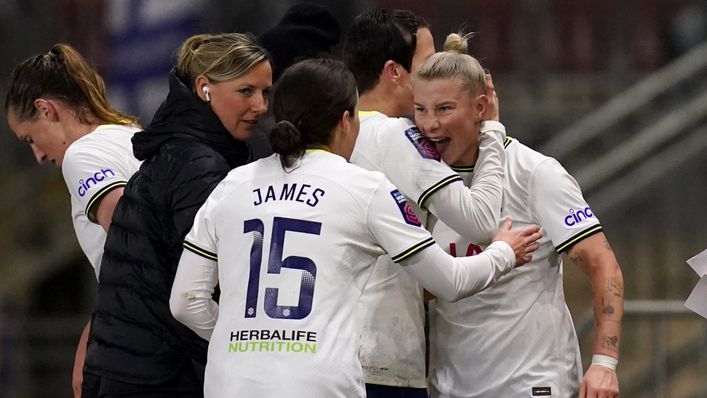 Bethany England's wonder goal eased Tottenham's relegation fears with a vital 1-0 win over Women's Super League basement side Leicester.
Victory for Spurs halted their run of nine consecutive league defeats, a sequence of results that saw Rehanne Skinner sacked on Monday.
Vicky Jepson was asked to step up from her role as assistant to lead the group and masterminded a first WSL win since October thanks to England's superb 65th-minute strike into the top corner.
Speaking at full-time, a relieved England said: "I think it's probably one of the most important goals I've scored. It was huge for us tonight.
"We needed a bit of magic and I'm so proud I was able to bring that. I honestly wouldn't have cared how that ball hit the back of the net because we just needed it so badly.
"I could not be prouder of the team and also the fans that turned up in the rubbish weather for us. We needed that after the last few days we've had.
"To be honest, I thought my shot might have been tipped over if it went too straight. But it flew in and I ended up celebrating in front of their bench, which might have seemed a bit rude.
"But it was just such a relief to get the ball in the back of the net and be one step closer to getting the points on the board.
"First and foremost, our goal was to get bodies behind the ball and keep a clean sheet. We've come away with all three points and that's huge for us.
"As I've said, I can't thank the fans enough. Things have been tough and they deserve more.
"We need to provide better performances — it's the least we can do when they're spending their money to come and watch us."
Only two points separated the teams before kick-off and the importance of the fixture produced a cagey opening 45 minutes where Tottenham goalkeeper Tinja-Riikka Korpela required treatment.
Spurs interim boss Jepson was thankful Korpela remained on the pitch when she saved from Hannah Cain in the 63rd minute before the resulting corner saw Ruby Mace and Sam Tierney both go close.
Those squandered opportunities would come back to haunt Willie Kirk's side at Brisbane Road.
England, 28, received possession on the left, cut inside and rifled a swerving, dipping effort past in-form Bayern Munich loanee Janina Leitzig into the top corner.
The striker's fifth goal for Tottenham since a high-profile January move from Chelsea proved priceless with the hosts holding on to taste the winning feeling again.
Victory moves Spurs move up to ninth and five points clear of Leicester, who occupy the division's solitary relegation position.
Tags