Mowbray will not let Sunderland play for a draw in second leg at Luton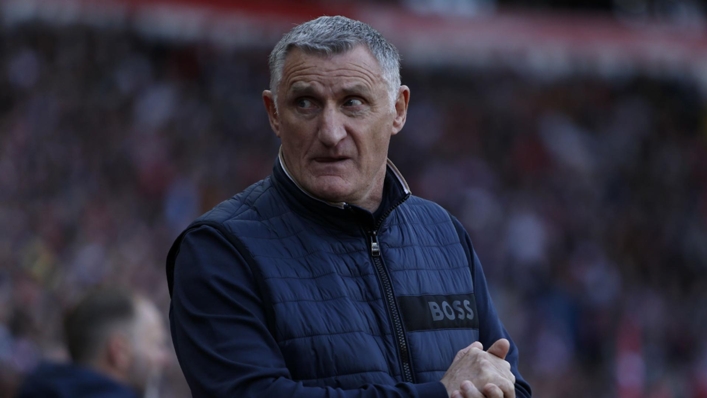 Tony Mowbray has no intention of playing for a draw at Luton after Sunderland earned a hard-fought lead in the first leg of the Sky Bet Championship play-off semi-final.
The Black Cats will head for Luton on Tuesday evening with a 2-1 win under their belts, but under orders to follow it up with another victory at Kenilworth Road.
Speaking after Saturday's game at the Stadium of Light, Mowbray said: "There were no points played for tonight. We have to go to Luton now and go and try to win the next game.
"We've just said to them in there, 'We have to go and play and try to win a football match'. We won't be protecting anything, we won't be trying to slow the game down, we won't be putting loads of men at the back.
"We'll be playing our game and going to try to win."
The Hatters forced their way in front after just 11 minutes when Elijah Adebayo stabbed home after Anthony Patterson had blocked Alfie Doughty's shot.
However, Amad Diallo's stunning equaliser dragged the Black Cats back into it before the break and Trai Hume headed them to victory in the second half.
Sunderland won 11 times on the road and only seven at home during the regular season, but Mowbray, who has fresh injury doubts over Alex Pritchard and Patrick Roberts, will not leave anything to chance this time around.
He said: "Nobody is taking anything for granted. We know we've got another huge fight on our hands on Tuesday that we need to bring our best performance to.
"But we know their threat and that they are a very good team."
Opposite number Rob Edwards insisted the tie is still very much alive, but is well aware of the task ahead.
Edwards said: "You don't want to be going home completely out of it – and they're capable at this place with all these fans here as well as the players they've got on the pitch to go bang, bang, bang and score a few goals.
"It's in the balance and we look forward to Tuesday. We're well aware they're a very good team, they're really good individuals.
"We shouldn't come away from how many millions people have spent on some of their players at times over the last few years, so it's no surprise to me that they're where they are and they're good.
"I know they're young, some of them, but they should be good and they are."
Tags