Thuram set for blockbuster move as Gladbach confirm France star is leaving
John Skilbeck
Stats Perform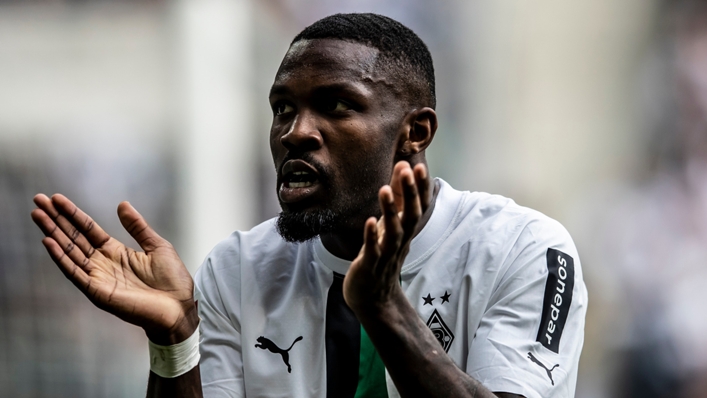 Marcus Thuram will leave Borussia Monchengladbach as a free agent at the end of the season after the Bundesliga club finally gave up hope of keeping the France forward.
The 25-year-old is enjoying his most fruitful goalscoring campaign and has been linked with clubs including Inter, Chelsea and Newcastle United.
In 28 games, he has managed 16 goals and five assists, already beating his haul of 14 goals from the 2019-20 campaign.
Thuram, who can play as a striker and as a left winger, is the son of former France defender Lilian Thuram.
Gladbach sporting director Roland Virkus said it was with regret that the club would part company with former Guingamp after four years together.
Algerian defender Ramy Bensebaini will also leave on a free transfer, and it has been reported he will join Borussia Dortmund.
Virkus said: "We were in an open discussion with both players and knew their current position. It is a shame that they won't extend their current contracts, which expire in the summer, and we also understand that our fans are disappointed that both aren't staying.
"In the past years, it has always been part of our approach to pick up talented players, develop them further, and at a certain point in time also allow them to leave, because we can't keep them forever.
"In an ideal world, we would have picked up an attractive transfer fee. It is obviously not good that now this is not the case."
In an interview on Gladbach's official website, Virkus described Thuram and Bensebaini as "players that can make the difference".
"Both have helped us from a sporting side in the past few years and are still doing that now," he added, "so despite all our justified disappointment, they have still earned a stylish goodbye."
The news of the twin departures followed Wednesday's announcement that captain Lars Stindl would also be leaving Gladbach after an eight-year stint.
Virkus said: "We were also in an open and fair discussion with Lars. He explained his personal decision in terms of the responsibility he has to his family.
"In the end, that also speaks to Lars Stindl as a person. He has helped shaped the club over eight years, was the face of Borussia, a goal threat, a hard-worker for the team and a brilliant captain. He is now 34 years old though, and your priorities change, he is going back home and you have to respect that."
Tags