Fernandes rages at officials as Portugal crash to surprise World Cup exit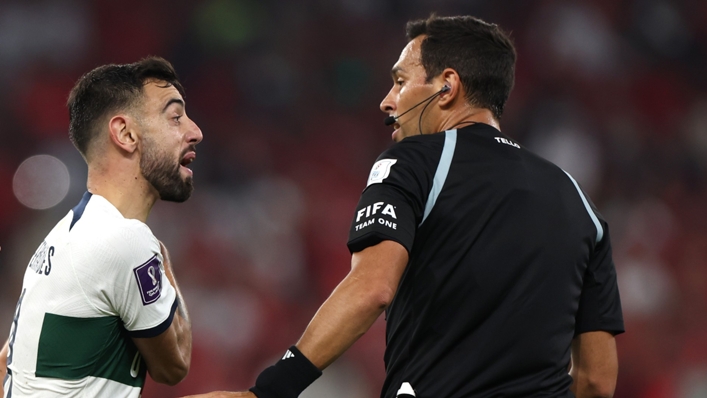 Bruno Fernandes hit out at the decision to appoint an Argentinian referee to Portugal's World Cup quarter-final against Morocco following their defeat, claiming: "They have clearly tilted the field against us".
Portugal were eliminated at the quarter-final stage of the tournament for the first time as Youssef En-Nesyri headed home the only goal of the game in the first half.
However, the performance of referee Facundo Tello was criticised by Portugal's players after the game, in which Fernandes was denied a penalty when he went down under a challenge from Achraf Hakimi.
Defender Pepe described Tello's appointment as "unacceptable" after Portugal's loss, and Fernandes concurred.
"I don't know if they are going to give the cup to Argentina. I'm going to say what I think and f*** them," Fernandes told reporters at the Al Thumama Stadium.
"It's very strange that a referee from a team that's still in the tournament referees us. They have clearly tilted the field against us.
"These referees do not officiate in the Champions League. They are not used to this type of game and this pace.
"In the first half there is a clear penalty on me, without any doubt. Never in my life have I let myself fall when I was alone with the goalkeeper and could shoot at the goal."
Reflecting on Portugal's campaign in Qatar, Fernandes insisted there had been no issue with their application, preferring to credit Morocco's defensive organisation.
"There are some other teams that could be in the semi-finals," he said. "We had quality and commitment to go further. This was not lacking, but unfortunately football has these moments.
"It is very difficult and sad to accept this. I can't say anything about my team-mates. They've all been fantastic since the beginning of the tournament.
"It is very difficult to express in words. It is a difficult and sad moment for us. We had the ambition and quality for more. There is always something else that we can leave on the field.
"But I repeat, the delivery and commitment was total. The big difference was that we couldn't score goals, and they knew how to defend very well."
Tags