Fisher hits back after Alabama coach Saban alleges recruitment breaches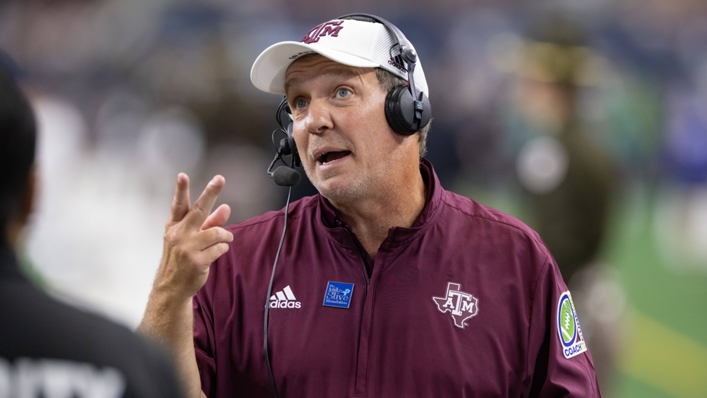 Texas A&M coach Jimbo Fisher insisted "there are no violations" as he hit back at Alabama's Nick Saban, who had alleged the Aggies were breaching recruitment rules.
The NCAA removed most of its rules stopping athletes from earning money via sponsorship and endorsement last year, but concerns persist over colleges recruiting players with name, image and likeness deals.
Saban, who has won six national championships as a coach, alleged that Texas are still "buying" players with such deals despite the NCAA issuing guidance to Division I members to clarify its rules on recruiting.
"I know the consequence is going to be difficult for the people who are spending tons of money to get players," Saban said.
"You read about it, you know who they are. We were second in recruiting last year. A&M was first. A&M bought every player on their team. Made a deal for name, image and likeness.
"We didn't buy one player. But I don't know if we're going to be able to sustain that in the future, because more and more people are doing it. It's tough."
Texas were beaten by their Southeastern Conference rivals in the West Division Alabama last season, but the Crimson Tide managed to win the conference and play Georgia for the national championship.
Fisher, Saban's former assistant, responded by questioning his old colleague and defending Alabama, who were also accused of spending $30million on name, image and likeness deals to secure their recruits back in February.
"We built him up to be this 'Zorro' of football, but dig into his past or anyone that has ever coached with him," Fisher said of Saban on Thursday.
"You can find out anything you ever want to find out, what he does and how he does it, and it's despicable.
"It's a shame we have to sit up here and have this conversation about things we do, it's personal to us, to A&M, to our players, to our coaches and everybody involved.
"I know the guy, know him really well, it's amazing - that we're allowed to do those things, it's really despicable.
"I hate it for our players who are coming here, they have done things the right way and are doing things the right way.
"They will continue to do things the right way, I apologise [for] the way they insulted you publicly, the way they are doing it.
"Our fans, I apologise to you guys for people saying those things about Texas A&M, I promise you this, there are no violations, there is nothing wrong."