Gakpo believes the 'real Liverpool' will be back soon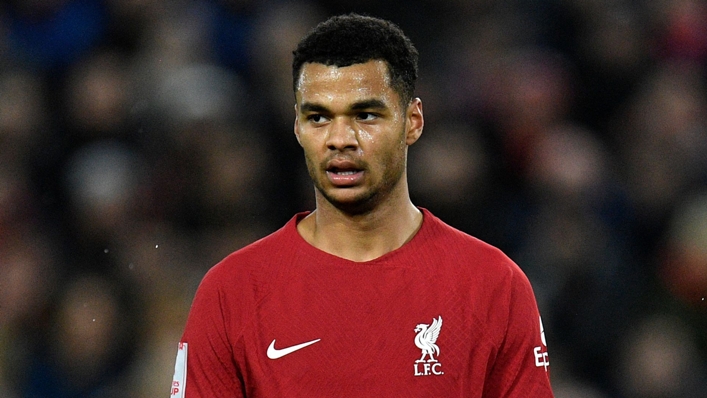 Cody Gakpo believes it is only a matter of time before the "real Liverpool" start firing again.
Liverpool have endured a difficult season so far and sit ninth in the Premier League – 21 points behind leaders Arsenal.
The Reds have been knocked out of the EFL Cup and face a tricky FA Cup fourth-round tie against Brighton and Hove Albion, who beat them 3-0 in the league two weeks ago, on Sunday.
However, Gakpo, who joined the club this month from PSV, has seen enough from his new team-mates to suggest the good times are not far away.
"My feeling, personally, is everyone in the team has so much quality," he said. "That is what I see in training and in phases in the games.
"It is also a part of football that sometimes things don't work out exactly the way you want them to. We just have to keep improving, working hard, and the quality will come out.
"Then, you're going to see the real Liverpool."
After impressing at the World Cup, Gakpo joined Liverpool from PSV for a reported fee of £37million (€42m).
From the start of last season until he joined the Anfield club, no player had more goal involvements in the Eredivisie than Gakpo's 46 (21 goals, 25 assists). Indeed, no other player in Europe's top 10 leagues tallied at least 20 goals and 20 assists in the same timeframe.
However, after four games – all starts – for Liverpool, Gakpo is yet to score or set up a goal. He has had 12 shots, with just three hitting the target, and only 18 touches in the opposition penalty area.
Gakpo acknowledged a different role in attack has taken some getting used to, but the 23-year-old is determined to make it work.
"It is a little bit different to what I'm used to," he added. "Normally, I have played on the left for almost the past three years. It's something I can improve, playing in the striker role, and I want to show my quality there.
"It's a great position and playing there makes me more complete as a technical player.
"From a football perspective, it's a new environment on the pitch, with new players and a new team. I can tell it's a really great group.
"Every day I am looking forward to working with them, to train hard and to play the games. I am trying to adapt as quickly as possible, to improve every day and in the end show the best version of myself."
Tags