Terzic relishing Tuchel duel but not viewing Klassiker as a title decider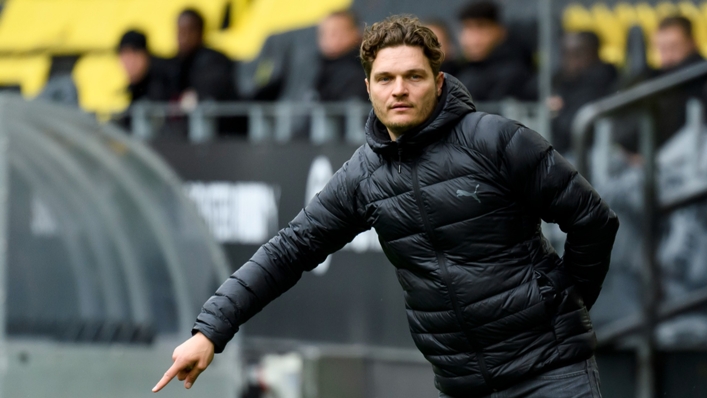 Edin Terzic is excited to test himself against Thomas Tuchel when Borussia Dortmund visit Bayern Munich for Saturday's Klassiker, but he is not viewing the game as a Bundesliga title decider.
Dortmund sit one point clear of Bayern at the Bundesliga summit as they bid to deny the Bavarian giants an 11th successive league title.
Amid suggestions of unrest behind the scenes, Bayern opted to make a change in the dugout during the international break, replacing Julian Nagelsmann with former BVB boss Tuchel.
Ahead of welcoming Tuchel back to the Bundesliga, Terzic said competing with the former Champions League-winning coach was evidence he had himself reached the top level.
"What hasn't changed at Bayern is that they have a top coach," Terzic said at Friday's press conference.
"It's a shame with Nagelsmann because he's an absolutely top coach, but we all know how quickly things can change.
"I'm very happy to welcome Thomas Tuchel and it shows that I work at the top level. Tuchel is not only one of the best coaches, but also one of the most successful."
Tuchel averaged 2.09 points per game during his two-year spell in charge of Dortmund – the best figure managed by any boss in their Bundesliga history.
Dortmund are entering a Bundesliga matchday top of the table for the first time since the second week of the 2019-20 campaign, while the last time they did so during the second half of a season was when they visited Bayern in April 2019.
BVB suffered a chastening 5-0 defeat on that occasion as Bayern went on to be crowned champions, but Terzic does not believe Saturday's game will decide the destination of the title.
"I'm firmly convinced that the championship won't be decided in tomorrow's game, but of course it can point the way," he said.
"We think that we can set an example and we want to prove that we are different than we have been in recent years.
"We not only respect the task against Bayern, but also the upcoming duels. This is the hot phase of the season."
Tags