Talking Tactics: Intense Jones looks a gamble for Saints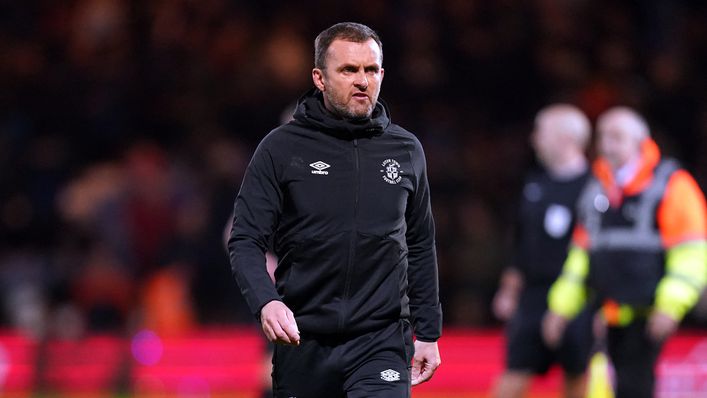 The Ralph Hasenhuttl era at Southampton is over and it looks like the Nathan Jones one is just about to begin.
Saints have seemingly quickly decided that the Luton boss is their first choice and have been given permission to speak to the Welshman following the Hatters' game at Stoke tomorrow night.
But why are the Premier League strugglers moving for Jones — a man who has been an undoubted success at Kenilworth Road, yet failed at Stoke?
Luton achievements
Appointed by Luton in January 2016, Jones followed play-off heartbreak in his first full season with automatic promotion in 2017-18 and the Hatters were top of League One when he made a controversial move to Stoke in January 2019.
While Luton went on to win the league, Jones failed to live up to expectations in the Potteries and was sacked just 11 months later.
When lockdown hit, Luton were also struggling, sitting 23rd in the Championship, six points from safety and facing immediate relegation back to the third tier with nine games left.
Replacement Graeme Jones left and his namesake made a shock — and not universally popular — return.
The great escape was completed, Luton consolidated the following season before a run to the play-offs last year put Kenilworth Road on the verge of becoming a Premier League ground before defeat to Huddersfield in the play semi-finals.
Diamonds are not forever
In League Two and League One, Jones' Luton were a free-flowing and attacking side who scored plenty of goals and conceded few.
They played a diamond system that got the most out of full-backs James Justin, who moved to Leicester for £7million, and Jack Stacey, who joined Bournemouth for £4m.
At Stoke, it did not work. But ex-Potters captain Ryan Shawcross reckons Jones will have quickly learned from his mistakes.
Earlier this year, he said: "He had a good tactical nous but it had been so successful for him in the past — Luton had a win rate of 51 per cent in his three years, had won one promotion and were on course for another — and he'd come with such conviction it was the way to go.
"I'm sure on reflection that he would think he could have played a system more familiar or suited to the players he inherited.
"He could have worked his way towards the diamond over transfer windows."
Physical and nasty
If Luton fans expected that diamond system to return with Jones in his second stint, they were wrong.
The Hatters still press from the front and the 49-year-old wants his side to score goals and create chances freely.
But only Birmingham have played fewer passes than Luton this term, while the Hatters waste no time getting it from back to front when they get the chance.
Midfielders Allan Campbell and Jordan Clark are on hand to pick up loose balls in the middle and harry the opposition, rather than to take the ball off defenders and progress it that way.
Carlton Morris and Elijah Adebayo are both skilful strikers with an eye for goal, yet they are primarily physical and a handful for any defence to play against.
It is the style that Jones has settled on since his return and it works. A stat emerged at the weekend that since his return, Luton have won 26 times on the road, keeping 21 clean sheets and winning 15 of those by a 1-0 scoreline.
Saints squad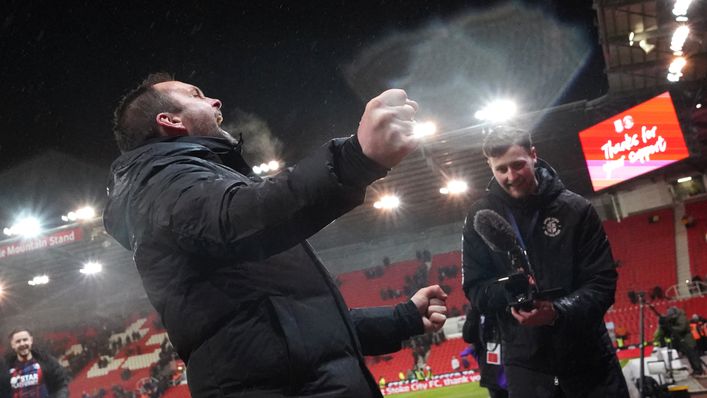 Clearly, putting his own spin on the Saints squad will take time. First and foremost, keeping them up will be the aim.
When he took over at Stoke in January, he tried to implement his favoured diamond shape straight away. Coming in at Luton for the second time, it was all about keeping things tight.
That he could have six weeks between his first game and his next one due to the World Cup means it is tough to say how he will set the Saints up.
But Jones will have learned plenty from his brief stint in the Potteries and may well try something previously unseen during his nearly seven years as a manager.
Big task
Jones and Luton are a fit that just work. He suits the club and gets great support from the board and those in charge.
Saints are a different animal entirely, as is the Premier League — and there is no guarantee that it will work.
Reports suggest Jones knows Matt Crocker — the director of football operations at St Mary's — very well and that appears to have undoubtedly played a part in his thinking.
On signing a new five-year deal earlier this year, Jones said: "I'm so proud to manage this fantastic club, but also of the fact that I'm the one entrusted to take it on to the next phase."
But Jones' stock has never been higher and managers know opportunities like this may never come around again.
Whether his style both in the dressing room and on the touchline can translate into a Premier League dressing room is now the big question.
Tags