Talking Tactics: Pep's rear-Guard keeping City in top spot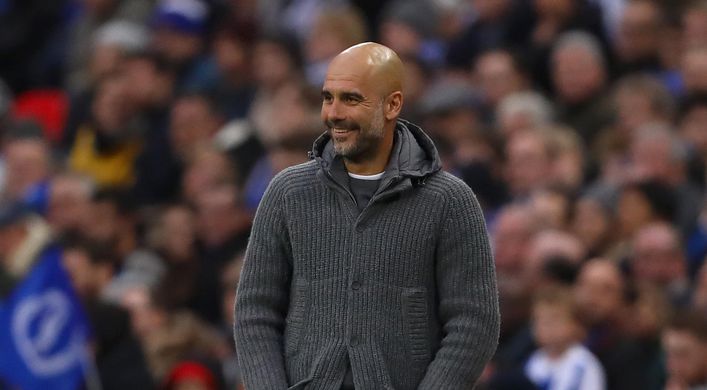 Manchester City attackers win plenty of plaudits — but it is their backline that could be key to securing silverware.
The current campaign is nearing the halfway point, yet the reigning champions have been breached on just nine occasions and have the best defensive record in the Premier League.
Though Pep Guardiola is famed for his free-flowing style, he is building yet another title charge on solid foundations.
So, as the Citizens bid to make it seven league wins on the bounce against Leeds tonight, we take a look at why the men from Manchester have been so impenetrable this term.
Total control
When you break it down, football is a simple game — if the opposition do not have the ball then you are not going to concede.
City have averaged just over 66% possession this season, which represents a slight increase from last year's average of 63.7%.
That might not seem like much of a difference but it all adds up, especially when you consider that the ball is in play for less than 60 minutes in an average game of football.
The Citizens are not attempting significantly more passes either — 679.44 per 90 minutes this season, compared to 675.03 in 2020-21 — they just appear to be retaining possession for longer periods. They now average 175.38 pass sequences per 90, up from 164.74 last season.
On paper, it all seems fairly straightforward but few teams have managed to master the art of retaining possession quite like Guardiola's men.
The team dream
Remarkably, City have managed to remain consistent despite a succession of injuries.
Systems that are reliant on certain individuals can be brittle. City are anything but that, as their manager detailed ahead of the team's trip to Paris Saint-Germain in September.
He said: "We don't defend well because we don't have good defenders, it's because everyone puts the spirit for each other.
"The only thing I understand from the beginning is defence depends on the will of the players, running when you have the ball.
"We have the desire to help, it's the way you're in this position to play well."
Off the ball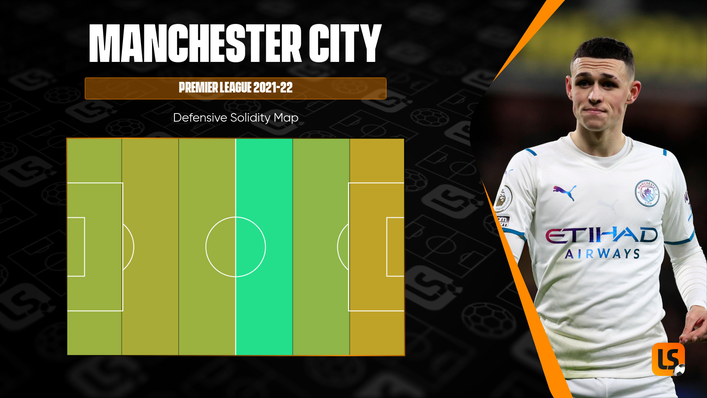 City used to smother the opposition as soon as they lost possession. The high press steamrolled so many teams early on in Guardiola's reign but things have been tweaked in recent seasons.
As shown in the defensive solidity map above, the league leaders primarily engage the opposition around the halfway line.
They rank fifth for passes per defensive action (10.8) — widely regarded as the best metric for how intensely a team presses — when in the early days they would typically be first in the league.
It highlights the shift in their approach and this is no doubt tied to the champions often going with a strikerless starting XI.
With more midfielders in the team, they can dominate the middle third while drawing the opposition on to them a little more. This then creates gaps the team can exploit during transition.
The fact that the Citizens have no striker gives them a little more freedom in how they defend.
Limiting the opposition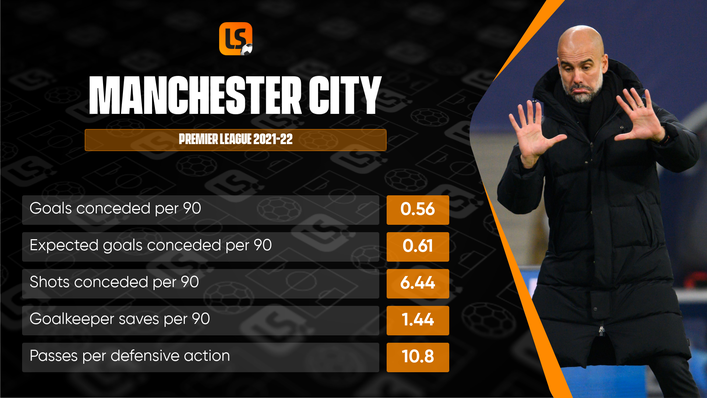 So far this term, City are allowing the opposition just 6.44 shots per 90, compared to 7.47 last season.
Again, the difference appears marginal but over the course of an entire season that is 38 fewer shots. For context, 38 attempts accounted for just over 13% of the shots faced by City last season — so it is quite significant.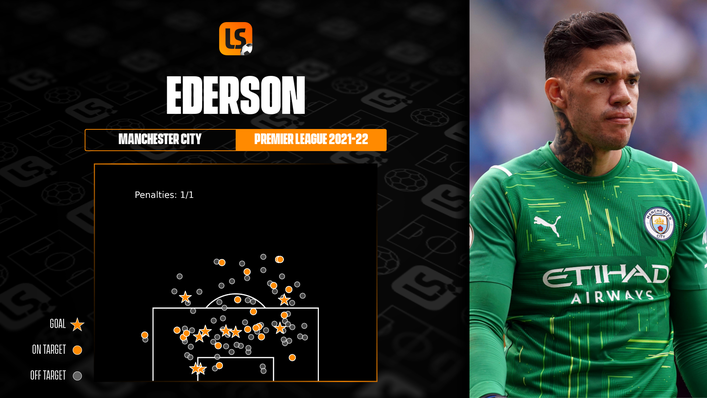 Not only are Guardiola's outfit limiting the number of chances teams are having but they are also limiting the quality of opportunities they are able to have.
Looking at the shots faced by Ederson this season, you can see that he has only had to save a handful of attempts.
Blocks are being made or attackers are being placed under enough pressure to put their efforts wide or over.
Make do and mend
Guardiola could not sign the striker he wanted this summer when Harry Kane ended up staying with Tottenham.
With City also losing Sergio Aguero, it meant that they went into the new season with Gabriel Jesus as a solitary senior frontman.
It is unwise to design a system dependent on a centre-forward when you only have one.
So Guardiola adapted. He adjusted his tactical set-up to ensure that his side do not concede, as that eases the burden on his attackers.
Expect to see the goals flowing once again at the Etihad as soon as a new No9 is signed.
But for this season, keeping the back door closed will be key.
Tags