Talking Tactics: Kompany looks to show lessons learned from Guardiola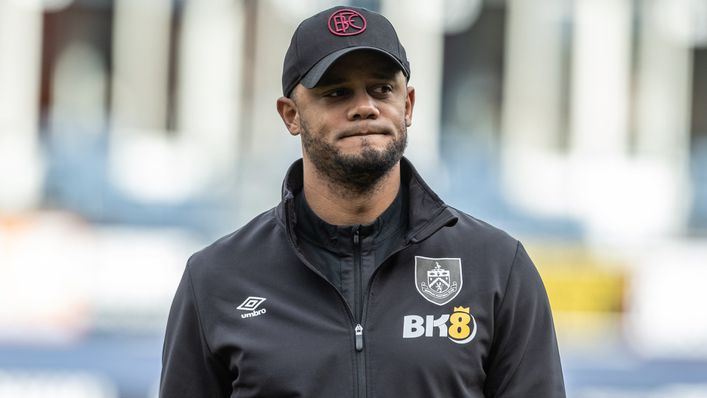 The apprentice will take on the master in Saturday's FA Cup quarter-final between Vincent Kompany's Burnley and Pep Guardiola's Manchester City.
The Belgian spent 11 seasons at City as a player, captaining the club and helping them to win a host of trophies.
Now impressing as a manager, his Championship table toppers face the ultimate test of their progress when they travel to the reigning Premier League champions.
Ahead of an intriguing tie at the Etihad, we take a look at Kompany's managerial prowess.
Vintage Clarets
Kompany left Anderlecht last summer to take over at then recently-relegated Burnley.
His two seasons in Belgium were not a huge success, with the former defender failing to win any trophies. His top-tier team finished fourth in 2020-21 and then third last season.
Kompany's appointment at Turf Moor felt like something of a left-field choice, not least because his style of football was likely to be in stark contrast to the pragmatic play of his predecessor Sean Dyche.
Rather than looking for continuity, Clarets chiefs decided on a fresh start. There was a huge amount of transfer activity over the summer, which transformed the squad.
Kompany has made the most of his new options. Not only did he revolutionise the playing style of the team, but he has also delivered results, with Burnley looking certain of a quick return to the Premier League.
Etihad return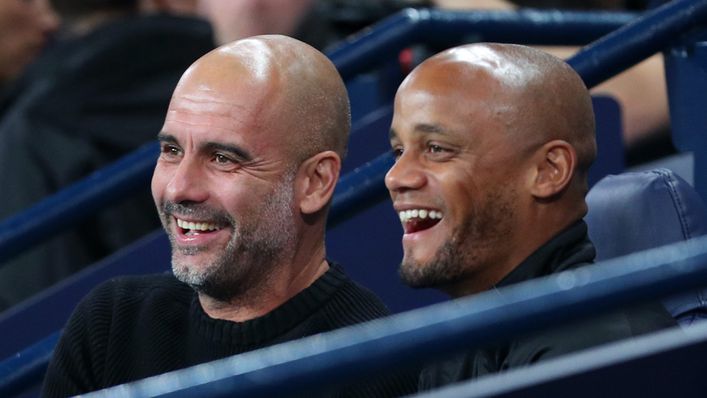 Burnley currently lead the Championship with a 13-point advantage over second-placed Sheffield United.
Unbeaten in 18 matches in all competitions, their most recent defeat came back in December when they lost 2-0 in the Carabao Cup clash at Manchester United.
Now Kompany takes his team back to Manchester to take on his former club City and lock horns with his mentor Guardiola.
And the 36-year-old seems more interested in the performance than the result.
He said: "They're trying to win the Champions League, we're trying to win the Championship.
"Sometimes in these types of games, the result is one thing and we all want to win, but many teams come to the Etihad and try to win.
"I shouldn't have, but I looked at the record of Championship teams going to the Etihad and it's not great.
"We've got to get something out of this game, hopefully a result, but there is so much more for us to get out of the game. The main focus is getting the best performance and then we'll see."
Pep talk
Guardiola was predictably quizzed about his contest with Kompany and whether the up-and-coming coach could one day succeed him in the Etihad home dugout.
The Catalan tactician, 52, said: "After seeing his team, I'm more than convinced he's going to come back. When? I don't know, but it's going to happen.
"Everyone knows he was important. He's one of the biggest legends I had and personally I pity that sometimes he was injured.
"The important thing is how he helped me as a manager, he always helped the team and said the things he thought was best for the club. He was an exceptional captain, a top human being and I'm really pleased for him."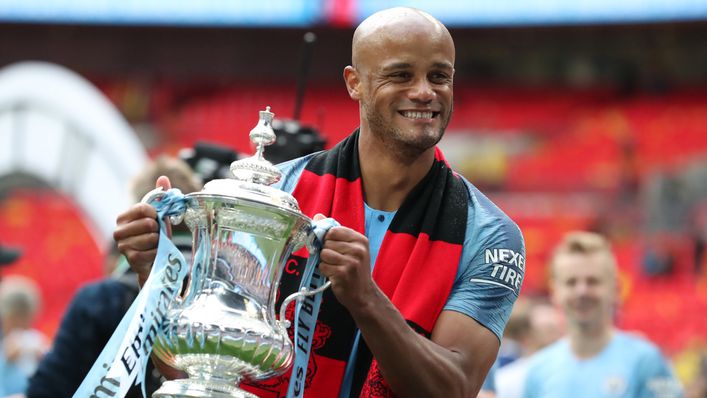 Kompany audition
Guardiola's praise highlights the fact that Kompany's impressive results at Burnley have every bit been matched by the style of play.
Much like Pep's teams, Kompany's Burnley have an attacking style and like to dominate both possession and territory, showing patience as they grind down the opposition.
When they have the ball, the back four typically becomes a three, with one of the full-backs stepping into midfield.
This is not, however, a mere copy and paste of Guardiola's style.
The Championship is known for throwing up unpredictable results but Burnley have only lost two league games all season and that record has been achieved by their manager being able to adapt his tactics.
As such, Guardiola will not expect an easy time when he meets his protege. City may well win the match, but that does not mean that Kompany will necessarily fail his audition.
Tags