Talking Tactics: Slot aiming to knock out Jose's Roma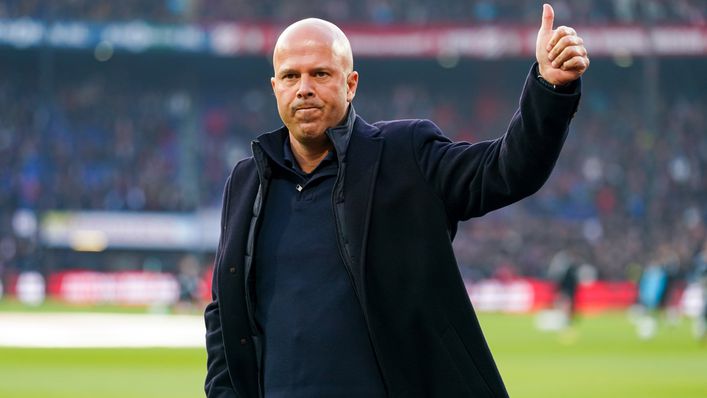 Arne Slot's Feyenoord hold the advantage in their revenge mission against Roma.
Now, they have been pitted against each other in the Europa League quarter-finals, with the Eredivisie leaders winning their home leg 1-0 last week.
Ahead of Feyenoord's trip to the Eternal City, we consider the size of the task at hand, how they might approach it and what victory could do for Slot's reputation.
Close victory
Feyenoord came out on top from a very tight first leg last week.
Lorenzo Pellegrini missed a penalty for Roma just before half-time before Mats Wieffer scored the decisive goal within eight minutes of the restart.
It was the Dutch club that controlled possession but Mourinho's men were predictably dangerous on the break, creating superior chances and having more shots on target.
On a less wasteful day, the Giallorossi could easily be taking a lead into the second leg. They also suffered disruption in the match when losing both Tammy Abraham and Paulo Dybala to injury.
Argentine forward Dybala is expected to be back for the return fixture though and Roma are in fine home form, winning 10 of their last 12 at the Stadio Olimpico and keeping a clean sheet in all of those victories.
The two occasions that they did not win should give some hope to Feyenoord, however. The hosts were knocked out of the Coppa Italia with a 2-1 loss to Cremonese and were beaten 4-3 by Sassuolo in Serie A.
But the away form of Slot's side in Europe is a concern. Of their four trips in the Europa League this season, they have drawn two and lost two, including a 4-2 defeat at the Stadio Olimpico to Lazio.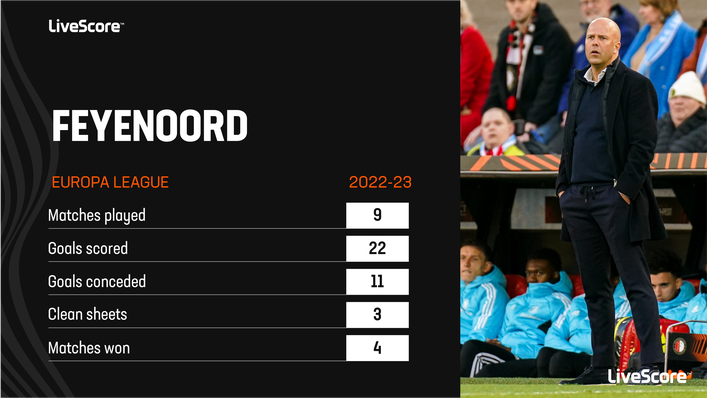 Patience needed
In all competitions, Feyenoord are unbeaten in 11 away games, which includes a 1-1 draw at Shakhtar Donetsk in the last 16 and a 3-2 Eredivisie win over title rivals Ajax.
When quizzed on how he intends to approach the match, Slot did not sound like he was planning for his side to sit back and defend their lead.
He said: "You have to keep them far from your goal. Because if you defend close to your goal, you will get free-kicks, corners and unjustified penalties. You must avoid that."
Feyenoord are adept at keeping possession in attacking areas but do not tend to employ a particularly patient build-up. They move the ball forwards quickly with plenty of risky passes and crosses.
Slot will need to find the right balance between attacking aggression and being a little more careful when it comes to keeping possession, with Roma being adept on the counter.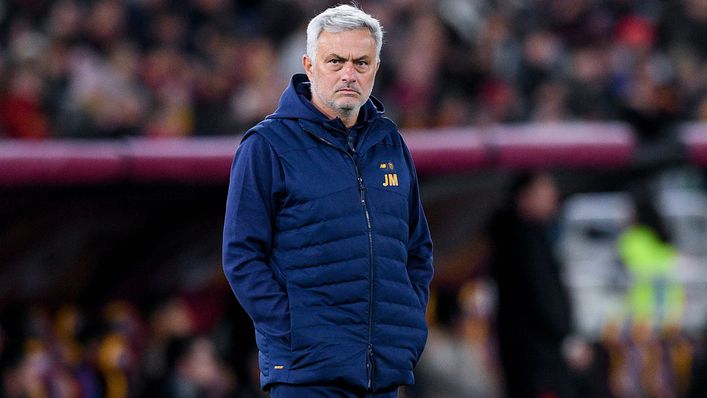 English interest
If Slot can come through this tough test, it will be another boost to his burgeoning reputation.
The 44-year-old is already one of the most wanted coaches around, with Feyenoord set to end the stranglehold of Ajax and PSV Eindhoven by winning their first Eredivisie title since 2017.
Defeating a Roma team that denied his side in the Europa Conference League showpiece last year would be another major display of progress.
That sense of growth would be amplified should the club go on to reach a second successive European final, too.
Slot was targeted by Leeds earlier this season and is on Tottenham's managerial shortlist. Passing this assignment could be a ticket to a new opportunity for this exciting coach.
Tags