Talking Tactics: Alvarez and Haaland combo spells double trouble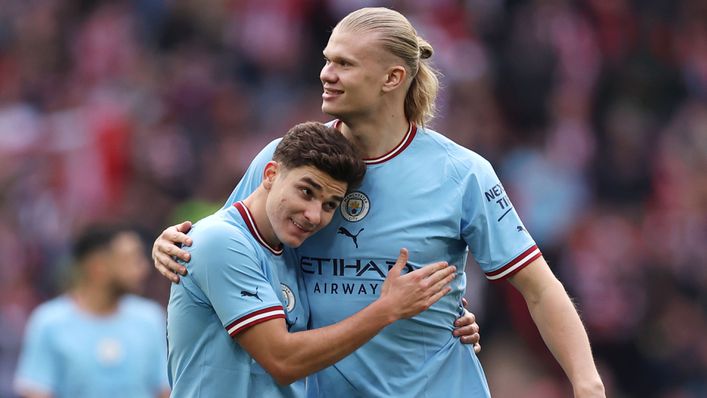 If the threat of Erling Haaland was not enough, Manchester City's opponents are increasingly having to worry about Julian Alvarez.
The Argentine was expected to play understudy to the Premier League's top scorer but as the season has gone on, the two marksmen have spent more time on the pitch together.
With Pep Guardiola's champions set to celebrate their latest title triumph against Chelsea this afternoon, we analyse the possibility of a strike partnership developing between Haaland and Alvarez next season.
World Cup winner
When Haaland and Alvarez both arrived at Manchester City last summer, it was clear who was top of the pecking order.
Norwegian sensation Haaland was the main man in a new-look attack and an incredible 52 goals from 49 appearances have followed this season.
Alvarez was signed as a back-up initially, while also possessing the versatility to fill other roles.
That was how it played out until November, save for the rare occasion when Guardiola opted to play with two strikers.
But the World Cup may have changed the Catalan manager's plans. Alvarez led the line for Argentina and scored four goals in the tournament, helping his country to lift the trophy.
Moving from South America, he was likely to accept being something of a fringe player in his first season in Europe.
Yet for a World Cup winner to return to being a back-up would have been a difficult transition. Guardiola has responded by giving Alvarez more opportunities to impress.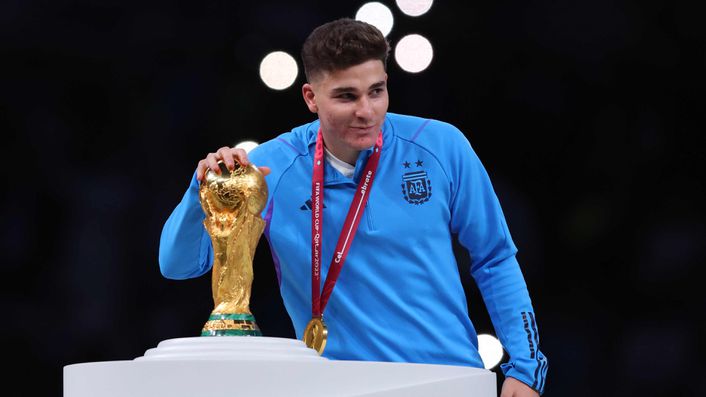 Premier League starts
Alvarez's starts increased in number as City reached the latter stages of the Champions League and Guardiola rotated his team for Premier League games.
The 23-year-old has been included in the first XI for each of the last four league fixtures, standing out in particular when he scored and assisted in the 2-1 win at Fulham.
In these games, he has largely played in one of the two central attacking midfield roles. The most recent outing against Everton saw him employed as a second striker, with two midfielders behind.
But whether Guardiola will ever unleash both Alvarez and Haaland as a genuine strike partnership is less clear.
The manager's deployment of a defender in a midfield role, with a back three behind them, conceivably lends itself to a fluid 3-5-2 formation.
Guardiola has experimented with something similar before. Back in 2017, he used Fernandinho in a hybrid midfield and defensive position, with the full-backs pushed up high and Sergio Aguero paired with Gabriel Jesus.
Double trouble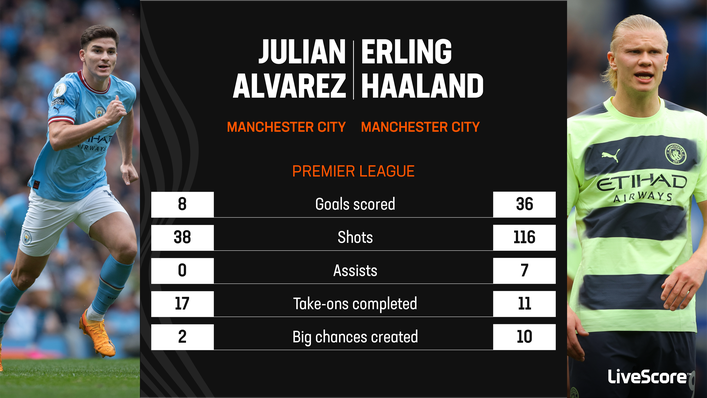 Alvarez's debut season in England has seen him score 16 goals and assist five. In total, he has made 46 appearances, but only 21 starts.
It is an impressive return and, combined with his World Cup exploits, may persuade Guardiola to find a more permanent position for him alongside Haaland.
City's signings often start in bit-part roles in their first season at the Etihad, with Jack Grealish the most recent example of a player who took a relatively long time to be fully trusted by his boss, despite costing a hefty sum.
With Ilkay Gundogan and Bernardo Silva possibly leaving in the summer, there is potential for a major reshuffle next season, which will see the South American forward get more starting opportunities.
Alvarez is too good to be a reserve and City risk losing him to a rival if he does not play regularly, as was the case with Jesus.
The prospect of combining him with Haaland is enticing and could spell double trouble for Premier League defences.
Tags