Laporta claims Super League would resemble 'much-improved Champions League'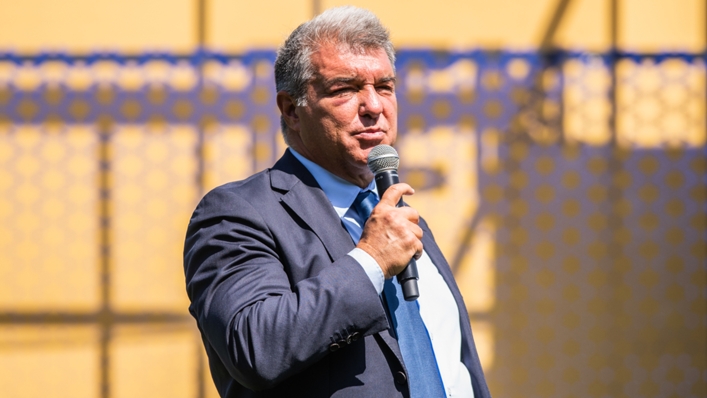 Barcelona would receive a €1billion bonus for being one of the Super League's founders, club president Joan Laporta has revealed.
Laporta also believes the competition would resemble a "much-improved Champions League".
Nine of the Super League's 12 founding clubs withdrew their support in the face of public and media pressure following a botched launch last year, though three clubs have advocated a revival of the competition.
Barcelona, Real Madrid and Juventus have all been vocal in their support for the project, with a new format reportedly being drawn up by A22 Sports' chief executive Bernd Reichart.
Having organised a meeting with Reichart earlier this week, UEFA hit out at the "greedy plan" of the Super League's backers, accusing them of jeopardising the future of football.
However, Laporta – who has spent his second spell as Barca president battling a financial crisis at Camp Nou – feels the competition would offer his club several benefits.
"From the outset, for the founding clubs, there is an initial bonus of €1bn, and per season, we could get about €300m annually in this competition," Laporta told Sport.
"In addition, the key to the Super League is that the clubs will have governance. UEFA will obviously be at the governance table, but the clubs will have the majority.
"The Super League is a great opportunity. But you can only win through dialogue. What the Super League aims to do is improve football.
"It fights for the sustainability of football, so that the clubs come out of ruin, so that the clubs can be more and more competitive and have more resources.
"The Super League will end up as a much-improved Champions League, which will be based on meritocracy, that is, it will be open, without club discrimination, but with guarantees and rules that will allow clubs to have more resources.
"Super League chief executive Bernd Reichart met last Tuesday with UEFA president Aleksander Ceferin in a very important step forward."
Despite their economic troubles, Barca embarked on a significant spending spree in the last transfer window, acquiring the likes of Robert Lewandowski, Jules Kounde and Raphinha.
While the Blaugrana were criticised for gambling the club's future after selling shares in their future television rights and in-house production company to fund those deals, Laporta says they will look for opportunities to strengthen again in January.
"The economic levers have helped to save the club from bankruptcy and to build a competitive team," Laporta said.
"But the hole was so big that we still have an operating deficit of €200m annually, as a result mainly of the enormous expenses that we have, especially with the wage bill.
"To sign in winter, we would have to incorporate players that improve what we already have. It's not easy, especially considering that we continue to have fair play problems due to our elimination from the Champions League, which has reduced our budgeted income.
"LaLiga has already warned us that we will have less capacity to sign. We will try to reverse it by negotiating with LaLiga to reconsider its interpretation [of the rules] and achieve new income with victories in the Europa League or the Supercopa de Espana. Even with some friendly matches during the World Cup."
Tags