Naismith bemoans Hearts' first-half display at St Mirren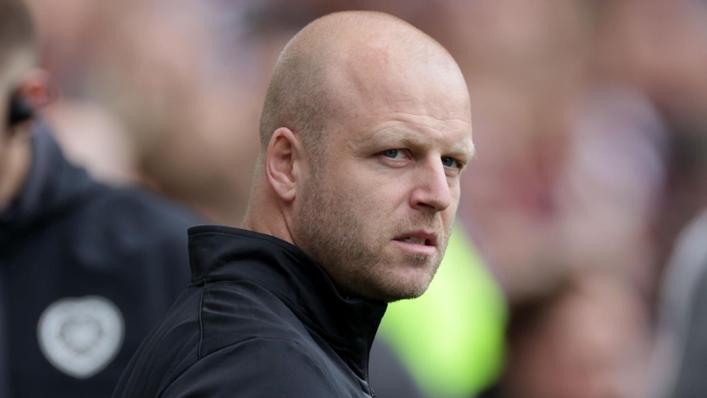 Hearts interim manager Steven Naismith was critical of his players' performance despite battling back from two goals with 10 men to claim a point at St Mirren.
The Tynecastle side looked to be heading for another defeat after goals from Joe Shaughnessy and Ryan Strain had the hosts two goals to the good at half-time.
But strikes from Josh Ginnelly and Lawrence Shankland, either side of Peter Haring's red card, earned Hearts a 2-2 draw.
Naismith admitted his team's first-half display had been far from good enough.
He said: "The first half was really frustrating because it was nowhere near good enough for where the expectation for the club is. We were far too safe and passive.
"St Mirren pressed as we expected they would and we weren't good enough to get through it in the first half.
"That's a real frustration because in the second half you see, with nothing to lose, the boys make brave decisions in key moments and that gets us back in the game and then we have the desire to play for the 95, 96 minutes and we come away with something that gives us hope.
"At half-time it was just being honest with them and telling them the straight facts of it. But the players knew at half-time. They were saying it all before I was.
"But what I've taken from previous managers, and more recently working with Steve Clarke, is you're still in a game at 2-0. You need to make bold and brave decisions that I felt we did today."
The draw damages St Mirren's hopes of qualifying for Europe next season and manager Stephen Robinson was massively disappointed.
He said: "We were 30 seconds from being a point behind Hibs and Hearts. It's a huge blow for us and a huge disappointment for us.
"The first half we were excellent. We took the game to Hearts and we said at half-time, 'go after the game'. But we didn't stop the cross for the first goal and we made a poor decision for the penalty.
"We had enough chances to win the game by five or six. Our decision-making on the break wasn't great, but it's not one person's fault. It's not a blame game. Collectively we made poor decisions. We played with a little bit of fear in the second half.
"We were so close to the points, but we took a step back instead of a step forward and we got massively punished for that."
Tags