Stellini: Relationship with Conte has not changed after Spurs sacking
Joshua Challies
Stats Perform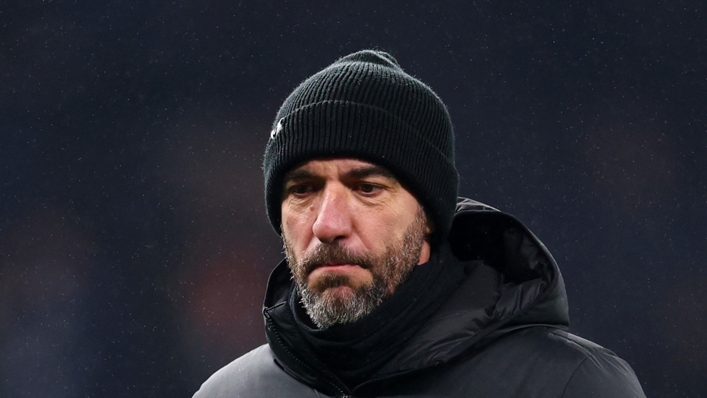 Christian Stellini and Antonio Conte's relationship has not changed following the latter's dismissal at Tottenham.
Conte and Spurs mutually agreed to part ways during the international break following a concerning dip in results, putting Spurs' top-four position in jeopardy, and a remarkable outburst against the club from Conte after the 3-3 draw with Southampton.
Stellini will now take charge in north London for the remainder of the season, with his first game being Monday's clash against Premier League strugglers Everton.
Spurs have 10 games to secure their position in the Champions League next season, while Stellini's temporary appointment has not eased concerns regarding the club's long-term position.
One thing that is clear for Stellini, however, is that he still has a strong friendship with Conte and he moved to thank the former Chelsea and Inter boss.
"I want to clarify that the decision was taken for the best of the club and for everyone," he told a press conference, "Antonio is good. Everyone took the decision altogether for the best of the club.
"My relationship with Antonio is still the same, we're very close and nothing changed between us. I have to say thank you because I have improved a lot in my career under him and it's because of him.
"I did the best for him before, and I'll do the best for him until the end of the season."
Asked whether he felt this was his next step into a managerial career, Stellini added: "It's the next step to work hard for the next 10 games.
"Nothing has to change in my mind. I'm not here for vanity. I'm here to help this club. I have to be myself. I used myself, my character. We will see what happens during the process.
"We've had not many days together. We had a good day in training and we followed in training what we did in the past."
Spurs head into the weekend fourth in the Premier League standings, two points above Newcastle United and seven above Liverpool, both of whom have two games in hand.
Tags