Spurs players support Conte sacking but Kulusevski 'sad' to see him go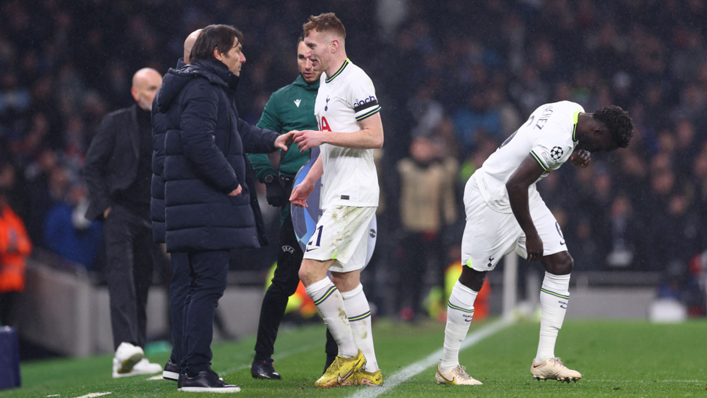 Tottenham winger Dejan Kulusevski was "sad" to see Antonio Conte fired by the club but claimed Spurs players support the decision to remove him from his post.
Conte and Spurs parted company on Sunday after a week of intense speculation suggesting he had already taken charge of his final game.
The Italian made headlines last Saturday when he went on a remarkable rant in his post-match press conference after Spurs threw away a two-goal lead at Southampton to draw 3-3.
He called his players "selfish" and extraordinarily suggested the club's lack of tangible success in recent years was ingrained, saying: "Tottenham's story is this – 20 years and they never won something. Why?"
Conte was reportedly asked by club chiefs to clarify those comments and he was said to have insisted they were aimed at the players rather than hierarchy, though seemingly that was not enough to save his job.
Since Conte's exit was confirmed, media reports have brought to light apparent frustrations with Conte from the squad, though Kulusevski – who was signed during the former Inter boss' tenure – appeared disappointed.
He told Fotballskanalen: "It's always sad when a person you work with and have grown close to has to leave.
"But life goes on and you just have to move on. We have ten games left now and we have to do our best to reach the top four."
Kulusevski added: "He has been very important [to me]. I have learned a lot from him and I will always remember him, but now we have his assistant [Cristian Stellini], who I know very well.
"Then we'll see who comes in next season, but I enjoy the city and the club very much."
Nevertheless, Sweden international Kulusevski clarified that, while he seemed somewhat disheartened by the change, collectively the Spurs squad does not have an issue with the action taken by decision makers.
"It's not me who decides. Whoever is the coach, we players will always accept and play for him and for everyone else," he said.
"Now the club made this decision because they think it is the best, and we players stand behind that."
Spurs are back in Premier League action on Monday when they go to Everton – at that point, Newcastle United, who have two games in hand, could have replaced them in fourth.
Tags