Sociedad work to plan to sign Sadiq as Isak replacement after 'difficult week'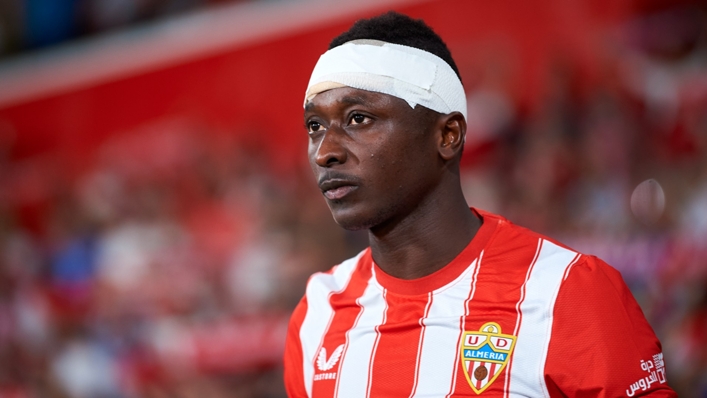 Real Sociedad were delighted to land their two priority targets in Alexander Sorloth and Umar Sadiq after the late sale of Alexander Isak prompted a frantic final week of the transfer window.
La Real sold star striker Isak to Newcastle United last Friday in a club-record €70million deal.
That move happened quickly, with Sociedad president Jokin Aperribay confirming the club had expected to keep Isak in this window as recently as the previous weekend.
"It has been a difficult week," he said, presenting Sadiq as a Sociedad player after his signing from Almeria was secured on Thursday.
"It's been a summer full of rumours. When a player's [Isak's] agent tells you on a Monday at 10pm that he's coming to San Sebastian with a club the next day, the first thing you think of is that they have an agreement between them.
"We had a week left and we thought about Real Sociedad; it was not the time to discuss too much but to take action."
He added: "On Sunday, we didn't think that Alex was going to leave; on Monday, we started the talks [with Newcastle]; on Tuesday, we concluded them; and on Wednesday, we started working on the signings."
Fortunately, La Real had a plan, having first fielded interest from Newcastle in Isak earlier in the window.
"We thought we were going to sign two players, which is what we had thought of in June," Aperribay said. "We thought of Sorloth on loan and Sadiq to replace Isak.
"We started those conversations, first with Leipzig and then with Almeria."
Sorloth, who had spent last season on loan at Sociedad, scoring four LaLiga goals alongside Isak, quickly returned on another temporary deal.
But the €20m move for Sadiq took a little more time, concluded after "an intense 48 hours".
Now, though, Imanol's side are in a position of strength, having made a huge profit on Isak while bringing in a player in Sadiq who scored 38 goals across two seasons in the second tier with Almeria and has already added two in three games in LaLiga this term.
His signing was crucial, as fellow attackers Carlos Fernandez and Mikel Oyarzabal remain out injured.
"We had to be aware that when you come out of an injury you don't go from nought to 100," Aperribay said. "We have to support the youngsters and be patient with Carlos and Oyarzabal. That's how we approach the season."
He added: "Sadiq was the first on the list. We knew that with Isak we had a risk that became a reality last week, and we have acted as planned."
Tags