Simeone: This season a 'wake-up call' for Atletico Madrid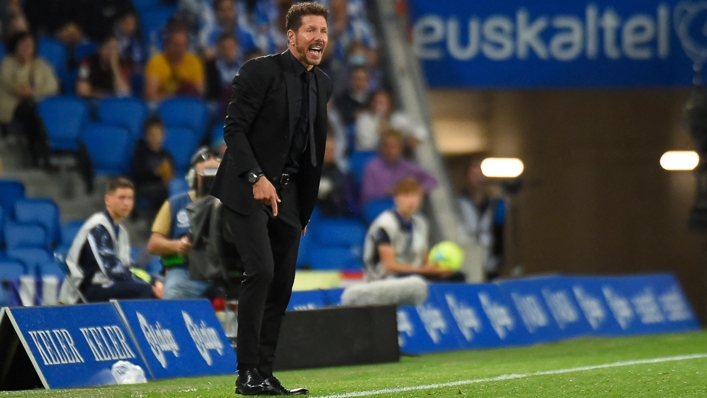 Atletico Madrid boss Diego Simeone is satisfied but expects more after his side's season ended with a 2-1 win away to Real Sociedad on Sunday.
Having already confirmed Champions League football next season, Atleti secured third spot over Sevilla with the win through second-half goals from Argentine duo Rodrigo de Paul and Angel Correa.
After holding out against Real Madrid to win the LaLiga title last season, Simeone's side were considered favourites to repeat after strengthening the squad with De Paul, Matheus Cunha and Antoine Griezmann's arrivals, but finished 15 points adrift of their title-winning city rivals.
Securing Champions League qualification is satisfactory according to Simeone, but this season has been a reality check for Atleti.
"As we were champions last year, this always seems little," he said post-match. "In the end we ended up rounding off an important season, a good one, and one that leaves us in a privileged place," he said post-game.
"I'm not going to lie, because I always expected more and I always want to be the champion. It's not easy because we live in a league with Barcelona and Real Madrid and it's difficult for both of them to fail, but on two occasions since I've been coach of Atletico we've achieved it.
"This season has given us a wake-up call."
Four consecutive LaLiga losses in December put the Rojiblancos in a difficult position, 14 points off Real Madrid by Christmas and out of the Champions League places with a resurgent Barcelona gaining ground under Xavi.
They were eventually able to turn around a nine-point deficit to Sevilla, while pushing Manchester City in the last 16 of the Champions League, in what was a positive second half to the season.
Following a solid performance to end the season, Atleti's strong run home gives Simeone confidence going into the next campaign, despite the Spanish league's natural order.
"It's not a problem of improving positions, although it's clear how we can strengthen ourselves, but the team is already there and it has very good players who have won 10 in the last 14 games, which are numbers of a champion," he said.
"We were very close to not making it [Champions League]," Simeone said. " This season leaves us with a lot of things, it was hard. We need to rest, since it started it wasn't easy. It cost a lot. It would be great to be able to generate hope, reverse how the end of the season was done. The rebelliousness of the players give us hope."
Tags