Safety the primary aim for crisis club Juve as Allegri targets 40 points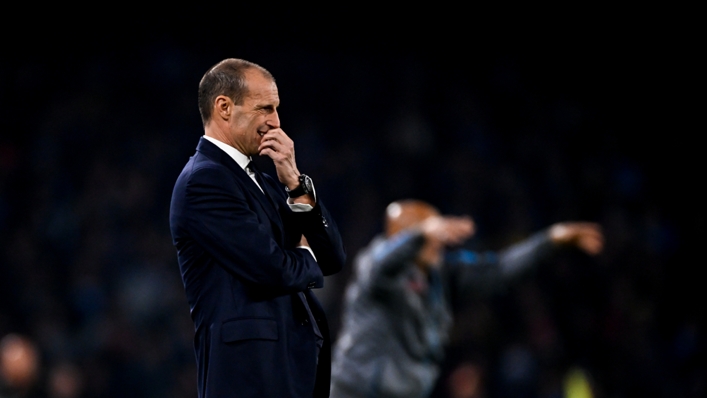 Massimiliano Allegri says Juventus' primary aim is to reach 40 points and ensure their place in Serie A for next season, with their 15-point deduction appearing to dash any top-four hopes.
Juventus were considered one of the sides capable of challenging leaders Napoli before an investigation into their historic transfer dealings led to their sanction being handed down last month.
Having picked up just one point from their last three league games, Juventus now sit 13th in the table, 10 points clear of the bottom three but 15 adrift of fourth-placed Lazio.
Speaking ahead of Tuesday's trip to 16th-placed Salernitana, who would leapfrog the Bianconeri with a win, Allegri was cautious when asked about his hopes for the remainder of the campaign.
"Right now the fact is that they have taken away 15 points and we must think about reaching 40 to save ourselves," Allegri said.
"It's laughable, but we have to think about this goal first and proceed step by step. Setting ourselves goals now is unthinkable.
"Now we have to reach the teams in front of us and climb slowly. Tomorrow we have to win, because in the last three league games we have only scored one point."
Juve will again be without Paul Pogba in Salerno after a minor injury delayed his second Bianconeri debut, while Leonardo Bonucci is also sidelined after suffering from a bout of flu.
"Everyone is available apart from Bonucci who has had the flu for three days, Pogba as before, and [Leandro] Paredes has a foot injury and won't be there," he said. "All the others are present."
Juve will likely need striker Dusan Vlahovic to return to top form if they are to climb the table, as he continues to chase his first goal of 2023.
Vlahovic has failed to score in his two appearances since returning from the World Cup with a groin injury, with his last club goal coming at the home of neighbours Torino in mid-October.
The Serbia international has thus scored each of his last eight Serie A goals in Turin (seven at the Allianz stadium and one at the Olimpico Grande Torino), last netting outside the city in a win at Cagliari last April.
Asked whether the striker will start Tuesday's game, Allegri said: "I haven't decided yet, but I'll make the assessments. Physically he's fine, he's much lighter and more dynamic than when he arrived.
"Let's hope he scores tomorrow. Vlahovic has never been as good physically as he is now, not even when he arrived from Fiorentina."
Tags