Ronaldo considered Portugal retirement after World Cup frustration
Joshua Challies
Stats Perform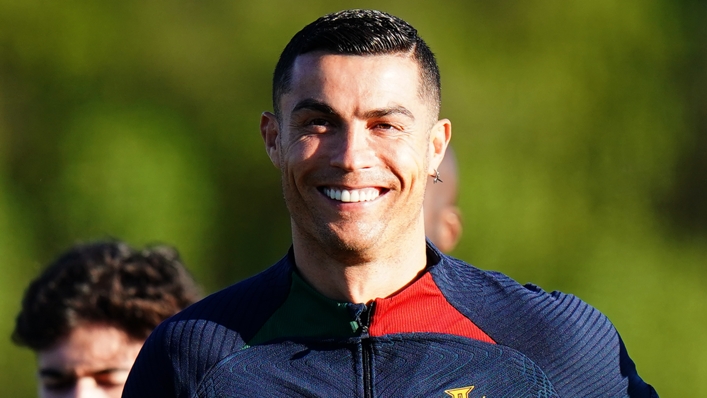 Cristiano Ronaldo has revealed he considered international retirement following the World Cup in Qatar.
Portugal crashed out at the quarter-final stage after defeat against Morocco, with Ronaldo losing his spot in the starting line-up for the knockout stages.
Fernando Santos dropped Ronaldo to the bench for the last-16 tie against Switzerland, with his replacement Goncalo Guedes scoring a hat-trick in a dominant 6-1 victory.
Ronaldo would continue as a substitute for the clash with Morocco, which almost spelled the end of his Portugal career.
"I'm not going to lie. In our life, we have to put everything on the scale," Ronaldo said ahead of a Euro 2024 qualifier against Liechtenstein.
"We thought, we reflected, me and my family, but then we came to the conclusion that, despite the difficulties, we cannot throw in the towel. I was able to see situations at different angles. I learned a lot from that.
"I'm glad to be back. Roberto Martinez showed that he counted on me. I've always wanted to play. As you know, he talked to everyone and to me, too. And I was able to realise that I have a lot to give to the national team.
"I feel it, I want it, and my desire is to take Portugal to the highest level. I will always give my contribution when they need me."
Portugal begin their qualification campaign for Euro 2024 under new stewardship following the appointment of Martinez, which Ronaldo expects to lead to a more attacking approach.
"There are a lot of different players, possibly the system will change, but it's not for me to talk about it," he said.
"Changes are good in life. What we feel in the national team is very positive. It feels like something special and positive. The intensity is very good, it's different.
"I'm sure the national team will be prepared for whatever comes. I'm sure Portugal will be a team with more attacking."
Tags