Robins escapes sack race to guide Coventry to brink of top flight
Phil Blanche
Press Association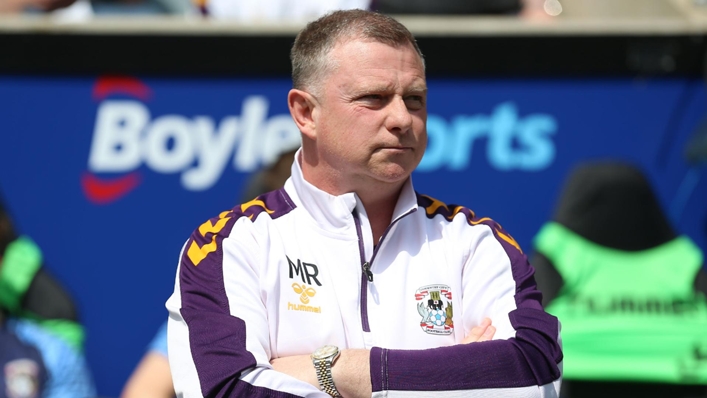 Mark Robins has praised Coventry for being "one game away from achieving a dream" at the end of a season in which he accepts he might have been sacked.
Coventry meet Luton in the Sky Bet Championship play-off final on Saturday with a Premier League place and the millions of pounds that come with such status at stake.
Yet Coventry – who played seven of their opening nine league games away from the CBS Arena this season after the Commonwealth Games' Rugby Sevens wrecked the pitch – were bottom of the Championship on October 19 and still in the relegation zone as November began.
"We are one game away from achieving a dream and changing the club's future very quickly," said manager Robins.
"This season has been exceptional in terms of the start we were handed and all the well documented issues that we had.
"The fact I remained in post when others didn't. Bottom of the league in October, it's generally unacceptable.
"That's been something you look back on and say, 'OK, that could have happened but it didn't'.
"We managed to navigate our way through a really difficult period and come out the other side.
"The supporters understood the situation and really backed it, and without them it wouldn't have happened.
"That's why it makes it so special because, for me, the biggest achievement since I came through the door is the reconnection between players and supporters and long may that continue."
Robins' second Coventry spell – he spent five months there before leaving for Huddersfield in February 2013 – began in March 2017 with the Sky Blues bottom of League One and doomed to relegation.
Coventry claimed promotion the following season with a Wembley play-off final victory over Exeter, and Robins repeated the trick in the Covid-hit campaign of 2019-20 as the club returned to the second tier of English football for the first time since 2012.
Success was more notable as it was achieved against the backdrop of playing in Birmingham between 2019 and 2021 due to a rent dispute.
A sense of calm did not arrive until January when Doug King completed a full takeover of the club, while last month's agreement of a five-year deal to continue playing at the the CBS Arena has provided further stability.
"I've had so much turbulence here that my first job at Rotherham stood me in good stead," said Robins, recalling the 2008-09 League Two season when the Millers were deducted 17 points and Luton lost 30 for breaching Football League insolvency rules.
"The game is one for the romantics because of the journeys both clubs have been on.
"Luton dropped out of the league when I started my managerial career and found it very difficult to come back from that position.
"It took them five years to get back in and they have had a phenomenal run ever since."
Coventry lost only once in their final 17 games to finish fifth in the Championship and they edged out highly fancied Middlesbrough in their play-off semi-final.
But Robins said: "We are under no illusions Luton are going to be made favourites because they finished 10 points ahead of us in the division.
"Luton are a really good team with some good technical players and have the power to go with that. That's why they finished third.
"They are a year ahead of us in their development (Luton were play-off semi-finalists last season) and are expected to go up. No one expected us to be in this game.
"But the change of ownership has accelerated our five-year plan by five years. We've got to try and and finish this off, but to be in a position to do that is in itself incredible."
Tags