Robertson and Alaba bond over World Cup pain
John Skilbeck
Stats Perform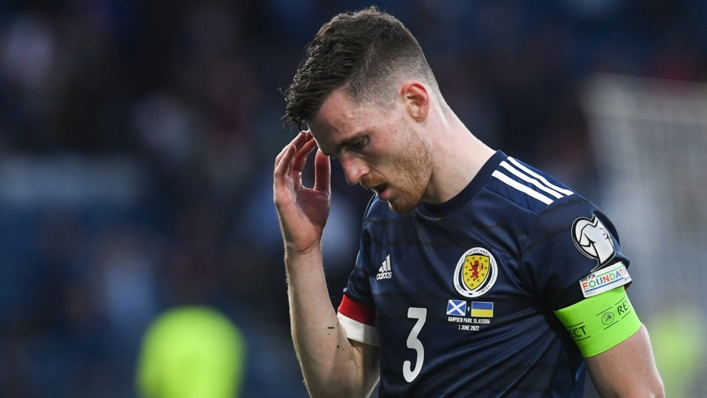 Andrew Robertson has found the World Cup a massive turn-off after Scotland's failure to qualify, as the Liverpool star admitted the tournament "bites away" at him.
The Scotland captain revealed he bonded with David Alaba of Real Madrid when they recently met by chance on holiday, with neither man on duty in Qatar while club-mates battle for glory.
Alaba missed out with Austria after a defeat to Wales in the first round of the UEFA play-offs, with Scotland going the same way after losing to Ukraine.
Robertson said having the World Cup happening in recent weeks had been "difficult", given his role as captain of his country, and initially he had "not really watched it".
He said he only wished the best for his Liverpool team-mates still in with a chance of reaching the December 18 final, and has begun watching games in the last few days.
"For Scotland it's obviously difficult," Robertson added. "We think we should've been there, but we didn't perform the way we did in the play-off, which was disappointing from our point of view, and we have to deal with that."
At the age of 28, Robertson knows time is finite when it comes to his chances of ever gracing the World Cup stage.
He has won almost all there is to win at club level with Liverpool, but success in international football will be difficult to come about. Scotland are ranked 40th by FIFA, so should at least stand a better chance of reaching the 2026 World Cup, when the tournament is expanded from 32 to 48 teams.
"When I went on holiday I actually bumped into David Alaba and he's in a similar boat obviously playing with Austria," Robertson told Liverpool's official website.
Like Robertson, Alaba skippers his national team. They next time both men meet will be in the Champions League last-16 tie between their respective teams.
"He said he'd been to a couple of Euros, but never been to a World Cup," Robertson said. "We were both kind of talking that we were getting on a bit, so the chances are running out for us to qualify."
Robertson sees the World Cup as "a massive, massive thing" that he wants to experience. Scotland made it through to the Euro 2020 finals, but their last World Cup trip was to France 98, when Robertson was four years old.
"The World Cup is the one that bites away at me," said the left-back. "I'll definitely have one more shot at it – maybe two, let's see. It is something you want to achieve and something you want to be part of, and in the future that's definitely a target of mine."
Liverpool's sketchy start to the Premier League season means they have ground to make up when the campaign resumes for the Reds on December 26, with a trip to Aston Villa.
Just six wins from 14 games have left Liverpool sixth in the table, albeit going into the World Cup break on a high after successive victories against Tottenham and Southampton.
Robertson said: "We've not got any time to waste, the start of the season hasn't been what we wanted. It's been nowhere near the standards that the fans have been used to for us, so it's important when we come back we try to hit the ground running because that's all we can do."
There was a boost for Liverpool boss Jurgen Klopp when winger Luis Diaz returned to training at the club's camp in Dubai on Tuesday, with the Colombian fit again after recovering from a knee injury.
Tags