Richarlison denies being 'mutiny leader' behind Conte's exit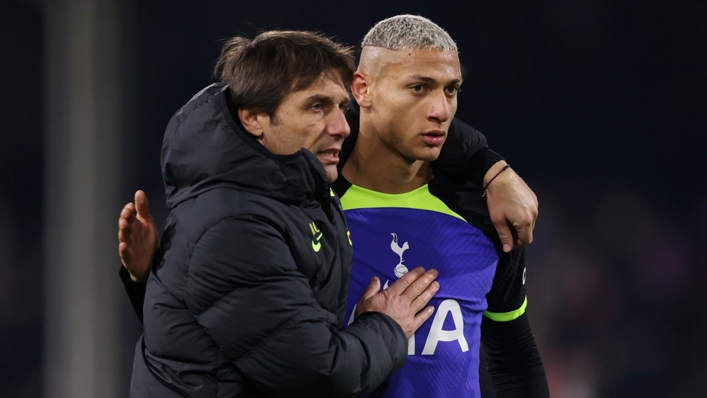 Richarlison has hit back at suggestions he played a key role in Tottenham's decision to sack Antonio Conte, denying being the "mutiny leader" behind the Italian's exit.
Spurs parted company with Conte last week, eight days after the former Chelsea boss launched a scathing attack on the club after a 3-3 draw at Southampton.
Conte described Tottenham's players as "selfish" and appeared to criticise chairman Daniel Levy, saying: "Tottenham's story is this — 20 years there is this owner and they never won something. Why?"
That rant came less than a fortnight after Richarlison publicly questioned why his playing time had been limited amid a dire run of form for Spurs.
Following Conte's dismissal, a journalist from Argentinian broadcaster TyC Sports suggested Richarlison had been involved in giving the club an ultimatum regarding the coach's future – a claim the forward vehemently denies.
Responding to the rumour on Twitter on Thursday, Richarlison wrote: "Questioning and criticising me as a player for my performance is part of football and I get it.
"However, telling lies about me, I don't accept! I've always had a lot of respect for Conte and for all my coaches.
"He helped me a lot in my coming to Spurs and whenever we had a problem (even if it was public) we solved it based on conversation and professionalism – and this he can confirm.
"I wasn't a mutiny leader against him, it was quite the opposite. I'm sorry I didn't deliver as much as he expected of me and I didn't do enough for him to stay.
"When he left, I sent him a message thanking him for everything and wishing him the best [because] that's what he deserves!
"On the other hand, the journalist responsible for this awful lie did not even do the least which would be talking to my PR or listening to me. Bad professional and bad character!"
Conte's former assistant Cristian Stellini begins his interim period at the helm with a trip to Everton on Monday, with Tottenham sitting fourth in the Premier League.
Tags