Depay 'the big difference' for Netherlands as Van Gaal disagrees with criticism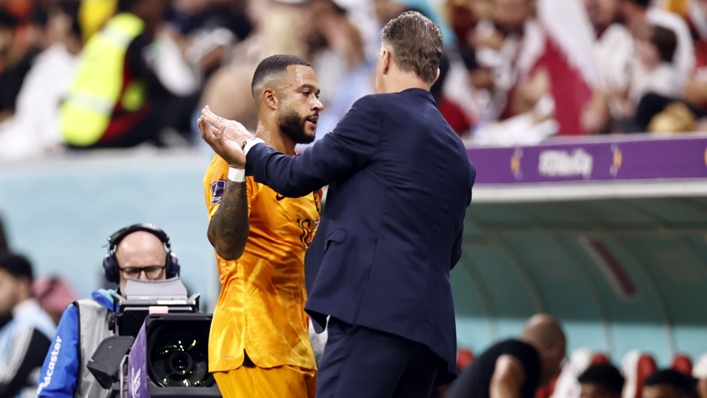 Louis van Gaal was heartened by Memphis Depay's display on his first start at the World Cup as he had a hand in both goals in a 2-0 Netherlands win over Qatar.
Depay is the Oranje's star man but had been restricted to the role of substitute in their first two matches following a hamstring injury.
But the Barcelona forward was called in from the start as the Netherlands needed three points to be sure of top spot in Group A.
Although Depay did not score, he was involved in the build-up to Cody Gakpo's opener and then had the shot that led to Frenkie de Jong converting a rebound for the second.
Coach Van Gaal was "so pleased" to have taken a risk by including Depay, Marten de Roon and Matthijs de Ligt, who had all been dealing with fitness concerns.
"The difference is Memphis is playing," he said. "He was involved in those two goals. That is the big difference.
"We have to bring Memphis into the game gradually, because he hasn't played in about two months."
Meanwhile, Van Gaal described Gakpo, who has three goals in three games, as having "everything it takes to become a star".
Van Gaal was certainly more impressed by his two forwards than he was by a question suggesting the Netherlands had underwhelmed.
"I think you have a different perspective on football than I," responded Van Gaal.
"Why don't you write down that it's terribly boring and you're going home tomorrow because you couldn't care less?"
When it was put to the coach that many fans concurred, he replied: "That's disappointing, but I don't agree. I think everyone would be rather proud that we're progressing to the next round."
Davy Klaassen, for his part, had accepted it was a fair assessment.
"If you play against Qatar, everyone will expect you'll win 5-0 or more," Klaassen said. "This tournament has shown it's very difficult.
"It's not like 10 years ago when you have the results you used to have. No country so far has shown these results in the group stage."
Qatar coach Felix Sanchez gave no assurances around his future but bristled at mention of his side's performance being the worst statistically of any host nation in World Cup history.
No other home side have lost as many as three matches or conceded as many as seven group-stage goals.
"We're talking about statistics. We're a country with 6,000 football licences, so this was a likely situation," Sanchez said.
"We never thought at any time to set a goal of reaching the last 16 or the quarter-finals. The goal was to get here, compete and see what we could do. Now we've seen.
"We managed to play two good games against the Netherlands and Senegal, knowing what tough opponents they are. We know in our first game we weren't at our usual level and didn't compete that well.
"We're very realistic about what we can do, where we're heading, what is expected of us.
"You can use statistics as you please, but we have to make our own assessment. That's what really matters to us."
Tags