Cole thrilled for Man City star Haaland after seeing record broken
Patric Ridge
Stats Perform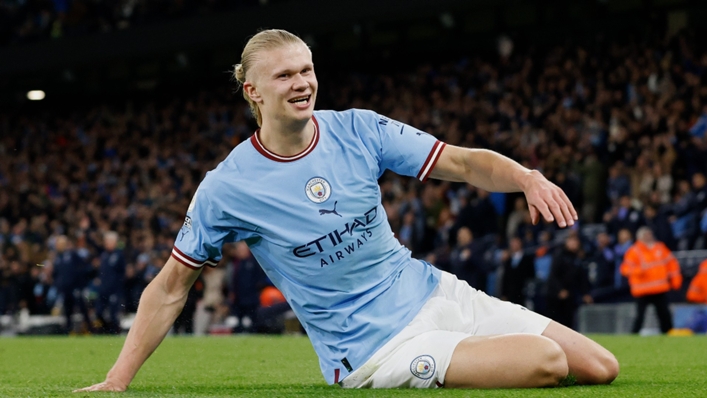 Andrew Cole is thrilled to have seen Erling Haaland break the long-standing Premier League record he shared with Alan Shearer.
Haaland netted his 35th league goal of the season in Manchester City's 3-0 win over West Ham on Wednesday.
That saw the 22-year-old set the new record for goals in a single Premier League season, which was previously set by Cole, who was then at Newcastle United, in the 1993-94 campaign and matched by Alan Shearer a year later — the duo both scored 34 times.
Cole, who spent time with both Manchester clubs in his career though is remembered best for his time at United, is not precious over his place in the record books being taken.
He told Stats Perform: "Records are there to be broken, it's that simple. When people have mentioned it to me it's not as if I'm going home and crying and saying, 'Oh no!'
"It doesn't bother me in the slightest, I don't care - if someone deserved to break that record, go ahead, do it.
"I'm not going to sit here rocking myself to sleep. It doesn't bother me because I'm not so conceited.
"His first season at City has been absolutely phenomenal. It's ridiculous. I take my hat off to him and fair play to him."
Asked if he expected Haaland to hit the ground running in such fearsome fashion in his first season in England, Cole replied: "I'm not surprised, put it that way.
"If you look at what Man City have done throughout the years, they've been screaming out for someone who just wants to run into the box and score goals.
"Maybe the volume of goals he's scored, but it's not surprising in the slightest that he finds himself in the position that you find yourself. Because when you play for a team, like Man City that create so many chances, you just need the number nine to finish them off. That's exactly what we've got now.
"If you're playing a team that creates many chances for you, it's not hard. When I did it at Newcastle the team was built for me, being built for me to score goals."
Tags