Real and CBF join Atletico in condemning Vinicius abuse
Patric Ridge
Stats Perform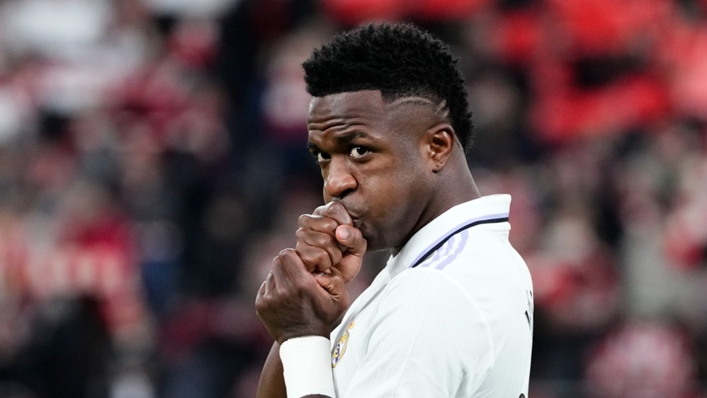 Real Madrid have called on authorities to hold those responsible for the abuse of Vinicius Junior to account.
Madrid host rivals Atletico Madrid in a Copa del Rey encounter on Thursday.
In the build-up to the match, pictures were shared on social media showing a mannequin, wearing a Vinicius shirt, hung by the neck from a bridge in the Spanish capital.
This was condemned by Atleti, who released a statement saying: "Such acts are absolutely repugnant and inadmissible and shame society. Our condemnation of any act that attacks the dignity of persons or institutions is categorical and unreserved."
Madrid have now joined their neighbours in condemning what they label as a "repugnant act of racism, xenophobia and hatred".
A statement read: "Real Madrid would like to thank you for the support and expressions of affection received after the regrettable and repugnant act of racism, xenophobia and hatred against our player Vinicius.
"We would like to express our strongest condemnation of these acts which are an attack on fundamental rights and the dignity of people, and which have nothing to do with the values that football and sport represent.
"Attacks such as those suffered by our player, or those suffered by any sportsperson, have no place in a society such as ours
"Real Madrid trust that those who have participated in such a despicable act will be held accountable."
The Confederacao Brasileira de Futebol (CBF) also joined in the condemnation.
"The CBF vehemently repudiates the racist acts suffered once again by Vinicius," a statement read.
"Intolerance and discrimination are not part of sport and must be eliminated from society. We hope that those responsible are identified and punished under the law."
LaLiga called for a full investigation to be launched and criminal sanctions issued against guilty parties.
Tags