Coach Sanchez promises Qatar will cut through World Cup 'noise' against Ecuador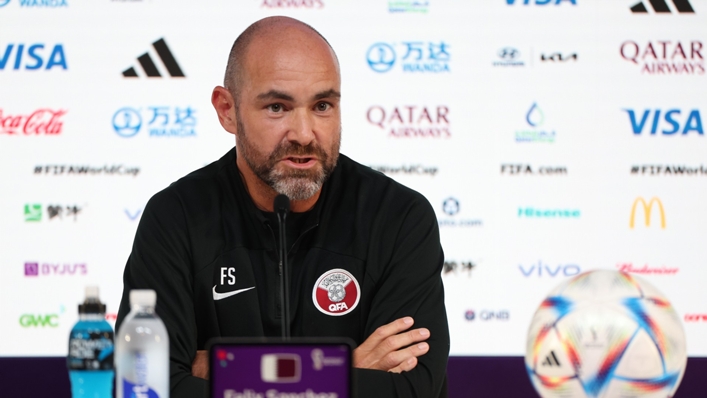 Felix Sanchez has sought to ensure Qatar focus on their football amid the controversy around the nation's hosting of the World Cup ahead of Sunday's opener against Ecuador.
But the Qatar coach is also realistic about his side's ambitions at their first finals, considering Ecuador clear favourites and suggesting Group A rivals may have already written the hosts off.
Sanchez was the first coach to hold a pre-match news conference on Saturday, with FIFA president Gianni Infantino's extraordinary opening address still prominent in the thoughts of many.
Infantino had defended Qatar following criticisms of human rights issues, its treatment of migrant workers and the illegality of homosexuality.
The topic of workers' rights was put to Sanchez, who replied: "A lot has been said about this – some misinformation, in my opinion. Some of the comments weren't completely fair, in my opinion.
"Obviously the loss of human life in working hours is the greatest tragedy we can endure, whether here in Qatar or anywhere else in the world.
"We just hope this World Cup means all together we can work to benefit the conditions for these groups, not just in Qatar but everywhere else in the world."
Asked whether the controversies had distracted from Asian champions Qatar's efforts on the field, the coach said: "I think that the best thing that can happen to a team and a footballer is to keep calm, avoid any sort of rumours and noise around you from a football point of view.
"Obviously we don't like people criticising our country, but in terms of football strictly we managed to have a great preparation for the World Cup.
"We kept calm. We are in good form. All the players come here with the highest motivation for tomorrow. We will try to give a good performance and be competitive.
"We have to be realistic around possibilities, but we have to do well."
Sanchez believes Qatar are "worthy to be here", but his realism was reflected in his analysis of a group that contains the Netherlands and Senegal, as well as Ecuador.
"It's three games, and we know the level of our opponent," said the Catalan. "Due to their history, their individual talent, their careers where they play, they are ahead of us.
"On paper, they should get the three points. Maybe they count on the three points already.
"But we are here to show we can be a competitive team. We will bring our 'A game' and try to get good results that will bring so much joy."
Qatar captain Hassan Al Haydos added: "We want to show the results of all of our hard work. God willing, we will perform much better than any game before."
Al Haydos appeared to be amused when an internet rumour, which claimed Ecuador had been offered a bribe to lose, was relayed to Sanchez.
"I said before: I think there is a lot of disinformation," the coach said. "The internet is great, but it is also very dangerous, from my point of view.
"For many years, we have been preparing, training. Together we are strong, nobody will be able to destabilise us with this criticism and statements.
"We are very motivated, excited and happy to be playing in a World Cup tomorrow. We are focusing on how to arrive with our best conditions. We don't take anything else into account."
Tags