Potter hails 'special night' as Chelsea advance to Champions League quarter-finals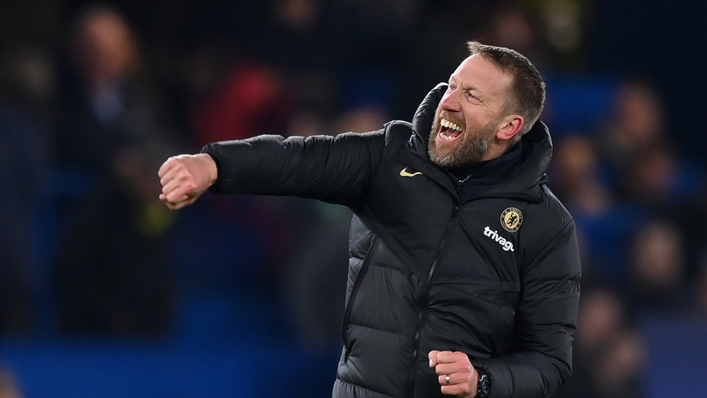 Chelsea head coach Graham Potter praised the atmosphere as he hailed a "special night" at Stamford Bridge as Chelsea beat Borussia Dortmund 2-0 in their Champions League last-16 second leg.
Heading into the game 1-0 down from the first leg in Germany, Chelsea started well and scored either side of half-time through Raheem Sterling and a retaken Kai Havertz penalty.
Dortmund arrived on the back of winning 10 games in a row, but had no answer to a Chelsea team seemingly buoyed by the weekend's victory against Leeds United, which was only their second in 12 games prior to Tuesday.
"Really pleased. Fantastic atmosphere, fantastic evening," Potter said at his post-match press conference. "The players and supporters were tremendous. We had to be against a team that have 10 wins on the bounce. It was a special night."
The Premier League side were without the injured Thiago Silva and unregistered Benoit Badiashile, with Marc Cucurella coming into the back three, and Potter was impressed with the Spaniard, who has faced criticism from fans for recent performances.
"I think he got man of the match, didn't he?" Potter asked. "I'm delighted for him. When you're having a bad time like we have, you accept the criticism. Marc has dealt with it well. We've tried to shield him a bit and pick the moment. With Benoit not available, he gave us the left foot and balance in a back-three and thankfully he delivered a top performance."
It made it back-to-back wins for Chelsea for the first time since October, and Potter addressed the recent dip in form and fan reaction directed at him.
"I think the supporters have been really fair with us," he said. "Supporters care, so when the results aren't what they want, they feel pain. They need to articulate that pain somehow, to get rid of it.
"They've been really supportive, they really have. They've stuck with the team and helped us on the pitch. You always need a bit of luck. I would say before the World Cup, we had nine players out. If you have all these players out, and tonight [Dortmund] had some players missing and that goes in our favour. I'm not going to complain about that at all."
He later added: "Inevitably, in life, you're going to have bad times and good times. I don't see any other way to look at it. It's how you react to the bad times, get some perspective and analyse it in the correct way. Things are never bad forever but it felt like that sometimes."
Potter was also asked if he had spoken to owner Todd Boehly, who was in attendance, to which he quipped: "Yeah I have, yeah. We're still here, I'm still here."
Tags