Porto amused by Conceicao speculation as coach commits until 2024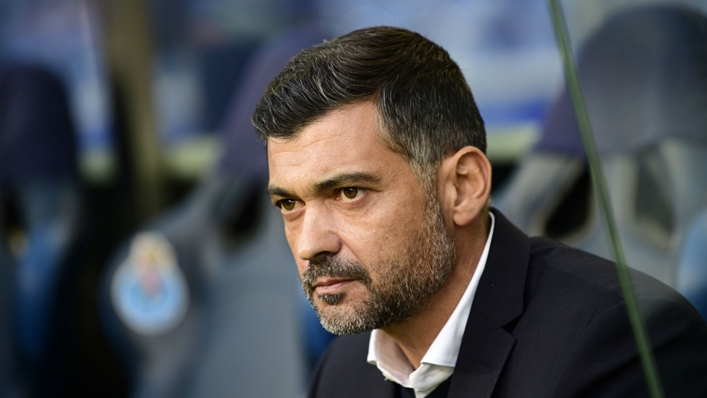 Porto president Jorge Nuno Pinto da Costa joked Sergio Conceicao "got to know Europe" before signing a contract extension as speculation around his future was ended on Saturday.
The Portuguese giants confirmed Conceicao had agreed a deal that will run to 2024.
The 46-year-old had been out of contract after four years with Porto, where he bolstered his reputation as a coach with two Primeira Liga titles.
With runs to the Champions League quarter-finals in 2019 and 2021 – knocking out Juventus earlier this year – Conceicao also made Porto the first Portuguese team this century to reach the last eight of the competition in consecutive appearances.
Uncertainty regarding Conceicao had prompted links to Serie A, having played for Lazio in two spells either side of stints with Parma and Inter.
Lazio were one of the sides said to be interested in a busy offseason in Italy, while Inter were also forced to recruit a new coach following Antonio Conte's departure. Lazio are expected to bring in Maurizio Sarri after Simone Inzaghi left the Biancocelesti for Inter.
Conceicao is staying in Porto, having agreed terms following various reports that provided amusement to Pinto da Costa.
"Up until five minutes before it was announced, they were talking on television that it was very difficult for Sergio Conceicao to continue at FC Porto," the president said.
"It was good that we didn't sign immediately, so he got to know Europe... Naples, Rome, Seville or Madrid.
"On May 24, they said that Sergio Conceicao was going to announce to the president that he was not going to continue. They were right, they just didn't get the year right.
"It will be May 24 but many years from now. This is the moment of happiness for both of us."
While Porto lost their title to Sporting CP in 2020-21 and were pipped by Benfica two years earlier, they have collected 14 more points than any other side in the Primeira Liga during Conceicao's tenure.
Porto's tally of 105 wins in 136 games in this time is also clear of Benfica's second-best 100.
Conceicao's league win percentage of 77.2 and return of 2.5 points per game outperforms a host of previous Porto coaches – notably including Champions League winner Jose Mourinho (75.6 and 2.4) – but the terms of his contract have not improved, his president claims.
"I don't know how much [Benfica coach] Jorge Jesus earns and I don't care," Pinto da Costa said.
"But if there is a coach who hasn't renewed for money, that coach is Sergio Conceicao. He won't receive one more euro than he received in the previous contract.
"There was an intention to denigrate the image and to pass on the image that he was staying because we satisfied his [financial] wishes. It's a lie.
"He doesn't get paid because we didn't [offer more]; he doesn't get paid because that was never the subject."
Tags