Police issue check on Grizzlies' Morant after social media posts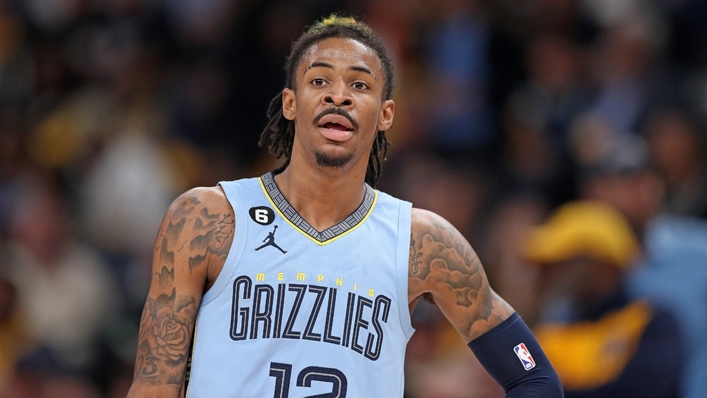 Tennessee police administered a welfare check on Ja Morant on Wednesday following a cryptic message the embattled Memphis Grizzlies star posted on Instagram, according to a report from TMZ Sports.
A spokesperson for the Shelby County Sheriff's Office acknowledged to TMZ that officers were called to Morant's home to check on the All-Star's well-being after he made references to his parents and young daughter before ending a social media post with the word "Bye."
Morant told the officers he wrote the post to indicate he will be taking a break from social media, the spokesperson told TMZ.
"He is fine," the spokesperson added.
Morant began the message by writing "Love ya Ma" followed by a blue heart emoji, which was also attached to a statement that read "Love ya pops." He then wrote, "You da greatest baby girl [blue heart emoji] love ya" before abruptly signing off.
The 23-year-old was suspended indefinitely by the Grizzlies last week after a video of him holding a handgun circulated on social media earlier this month.
Morant was previously suspended eight games by the Grizzlies and the NBA in March for a different video that showed him carrying a gun as he conducted an Instagram Live session from a Denver-area strip club.
The standout point guard entered a counseling program in Florida following the first incident and issued a statement expressing responsibility for the most recent video.
"I know I've disappointed a lot of people who have supported me," Morant said afterward. "This is a journey and I recognize there is more work to do. My words may not mean much right now, but I take full accountability for my actions. I'm committed to continuing to work on myself."
NBA Commissioner Adam Silver said he was surprised when informed of the second video and said the league is taking a further look at the matter.
"Honestly, I was shocked when I saw [it] this weekend," Silver told ESPN at the NBA Draft Lottery on May 16. "We're in the process of investigating it. We'll figure out exactly what happened to the best we can … But I'm assuming the worst."
Morant earned his second career All-Star nod this past season after averaging 26.2 points and 8.1 assists per game while helping Memphis to the No. 2 seed in the Western Conference. The Grizzlies were ousted by the Los Angles Lakers in the first round, however, with Morant going 3 for 16 from the field in the Lakers' Game 6 win that clinched the series.