Passes and penalties give Southgate's new England familiar notes of torment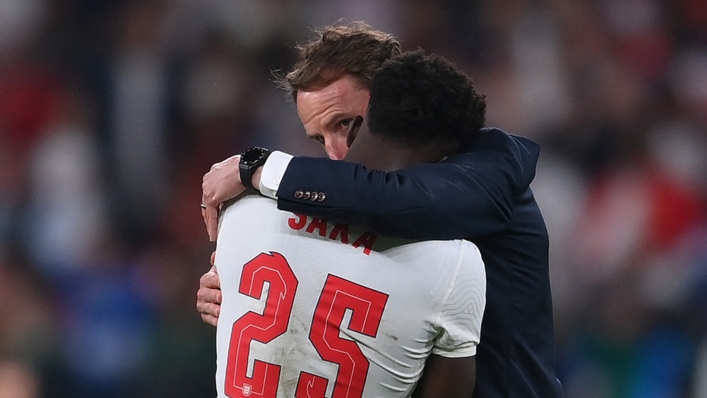 Penalties. It just had to be penalties.
Having grown immeasurably as a football manager and a statesmanlike public figure over recent years, Gareth Southgate might one day consider himself a specialist in exorcisms.
Demons have been slayed from 12 yards and now here are another legion of them to haunt poor Marcus Rashford, Jadon Sancho and Bukayo Saka – the latter remarkably taking the first penalty of his career.
English football, 55 years of hurt and counting, allows these events to stick to the collective consciousness.
When England beat Colombia in a 2018 World Cup shoot-out, Southgate let out a guttural roar; a cathartic celebration to banish memories of his decisive miss against Germany in the semi-final of Euro 96.
Except they needed snuffing out all over again when Germany arrived back at Wembley in the last 16. Then there was all the tension of a Wembley semi-final against Denmark. England's demons arrive in Whac-A-Mole form.
But there was another more subtle and ever-lurking tormentor for Southgate's excellent team as they came agonisingly close to immortality.
Dream opening scripted by Southgate
The absence and then avalanche of pre-penalties substitutions brought understandable questions over Southgate's decision-making, but the opening to the match felt like Pinewood Studios transplanted across town – a perfectly scripted demonstration of a coach's every call coming up trumps.
Luke Shaw's quickest goal in any European Championship final gave emphatic answers to all of the pre-match quandaries over Southgate's tactical plan for Italy, effectively ticking off all the of the key plot points like a neatly crafted screenplay.
How was Harry Kane going to deal with the formidable central defensive duo of Giorgio Chiellini and Leonardo Bonucci? Would he be effective dropping deep to occupy the Azzurri's slick midfield operators? Before the England captain's tournament took off with that late goal in the last-16 win over Germany, his lack of penalty area involvement became a source of concern and conjecture.
He came into his own half to receive a Shaw pass, turned smoothly into space and released Kieran Trippier – opening up the whole pitch and a field of dreams.
Yes, Trippier. The experienced Atletico Madrid defender was introduced in place of livewire Arsenal teenager Saka as Southgate reverted to a 3-4-3. Would that end up being an overly defensive note sounded by the manager, leaving Italy's centre-halves untroubled and undercooked left-back Emerson without examination?
Well, here were England flying at their opponents in the second minute. Kyle Walker, the right-sided centre-back, clattered past Shaw on the overlap like a freight train full of Gatorade. Trippier measured his cross to perfection.
But with this defensive formation and Kane as the deep-lying forward, paying an audacious tribute to his opponents by turning in a fabulous Francesco Totti impersonation throughout he first half, would England have enough players attacking balls into the box? Oh, there was Shaw, up from left wing-back and measuring a superb finish to spark pandemonium in the stands.
Azzurri's pass masters tame Three Lions
Two hours later, the mood music was sharply different as Southgate's men headed into extra time somewhat bedraggled.
Roberto Mancini's decision to remove Ciro Immobile after the centre-forward did 55 minutes of great work in the name of nominative determinism was key. With the electrifying Federico Chiesa leading an attack without a fixed focal point, Italy were a team transformed.
The Juventus forward sent a blistering left-footed drive just wide in a rare moment of first-half defiance from the Azzurri and he remained their main threat. Behind him, Jorginho and Marco Verratti were enjoying Wembley's green expanses amid wearying legs. During the first half, they looked more like tourists trying to shove their way through the impromptu pre-match revelry in Leicester Square.
Italy's equaliser came courtesy of the artisans rather than the artists – Chiellini manhandling John Stones at a corner and Bonucci on hand to scramble in the rebound after Jordan Pickford saved from Verratti's diving header.
Southgate changed shape after that leveller, introducing Saka for Trippier. Jordan Henderson followed in place of Declan Rice, whose influence had declined sharply along with that of Mason Mount.
Mancini's in-game intuition, honed through seasons of elite club management, proved more decisive in terms of changing a story told by a final pass count of 823-424 in Italy's favour. Before his thunderous penalty, Harry Maguire made the most England passes with 66. Five Italy players attempted more, with Verratti and Jorginho clocking 119 and 99 respectively.
As Italy's battery of playmakers shuffled into the ascendancy, Phil Foden's injury absence felt cruel for Southgate. For all the exciting talent in his squad, for all England's improvement in terms of game management and tactical flexibility, faced with a technically superior midfield there were problems beyond the footballing capabilities of the men in white.
It felt like Mount remained on the field too long, but Southgate does not have a Verratti or a Jorginho up his sleeve, however effective Rice and Kalvin Phillips have proved over the past month.
The world-leading academy system in England and the manner in which it feeds St George's Park suggests those players will come.
Imagine, even five years ago, an attacking midfielder such as Leicester City's James Maddison not being in the England squad because the likes of Jack Grealish, Foden and Mount already are. Talent will continue to bloom. Just think how good Jude Bellingham will be by Qatar 2022.
Midfielders to dictate alongside those who create are the next requirement if a team taking giant strides in the right direction are to make the final step towards glory and away from those gruesome trials by combat from 12 yards.
Tags