One To Watch: Merseysider Morton repaying Klopp's faith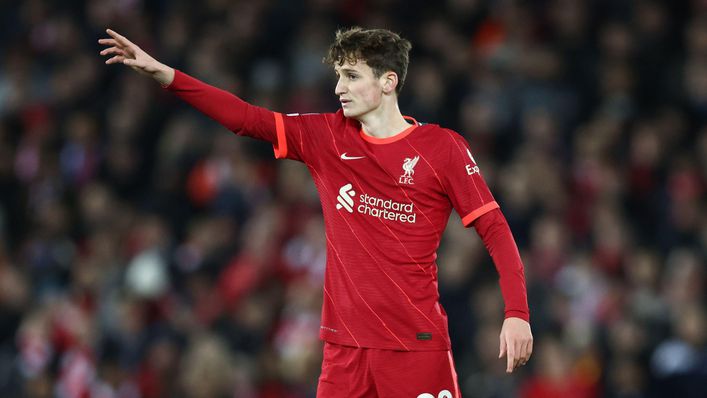 Jurgen Klopp's trust in Tyler Morton shows that the 19-year-old midfielder has a bright future.
The Liverpool youngster played the full 90 minutes in the Champions League victory over Porto, impressing alongside Thiago Alcantara and Alex Oxlade-Chamberlain.
A homegrown hero, Morton is making the most of his early opportunities at Anfield, following in the footsteps of fellow academy products Trent Alexander-Arnold and Curtis Jones.
Ahead of Wednesday's Merseyside derby, we examine the potential of the Reds' promising starlet.
Wirral wonder
Wallasey-born Morton has been with the Reds since he was spotted playing for his junior side at the age of seven.
A boyhood fan, he turned down advances from Everton with his heart set on playing for the club of his dreams.
He broke into the Under-18s side at the start of the last campaign and has gone from strength to strength since then.
There was not a lot of hype surrounding Morton prior to the season, yet Kop hero Jamie Carragher revealed in the summer that he was a talent to keep tabs on.
He said: "Tyler Morton is someone I've known from a young age at the academy. He has always been someone I've looked out for."
First-team involvement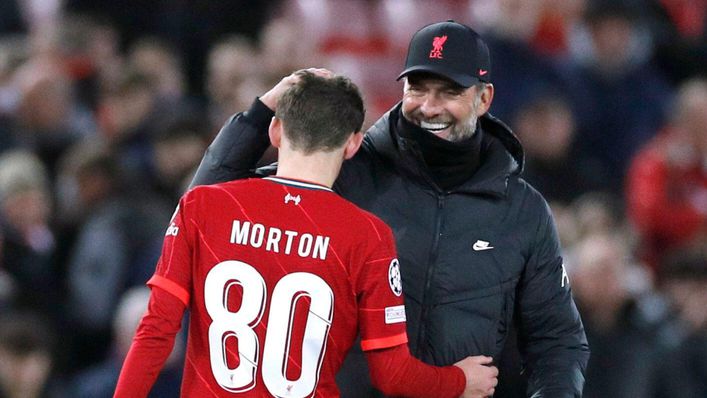 Morton has impressed behind the scenes at Liverpool with Klopp clearly a great believer in the midfielder's talents.
The Liverpudlian has previously said he idolises Thiago and the Spaniard revealed the first team were quickly asking questions about the teenager.
After the Porto victory, Thiago said: "The first time that he came I said, 'who is this player?' because he always trained amazingly with us.
"I think he will have a great and bright career here at Liverpool and football in general. We're happy to have him and play with him tonight."
That was actually Morton's fourth appearance for the Reds, having played in both Carabao Cup ties this campaign and coming off the bench against Arsenal for his Premier League debut a few days earlier.
After his debut at Preston, Morton said: "It's very emotional.
"My whole family are here and people who have supported Liverpool for years like my mates, they were here watching me."
Klopp's advice
All the indications are that Morton is a grounded individual, not likely to get carried away with his rise.
And despite Klopp's clear love for the youngster — the German was quick to embrace him at Anfield on Wednesday night — he has already told him where to improve.
Speaking in September, he said: "You can see Tyler Morton, I told him now we pretty much have to send him directly to the gym now.
"Because if he gets a body, he's a brilliant footballer.
"There's obviously some things to come physique-wise, but the football brain is outstanding."
Style of play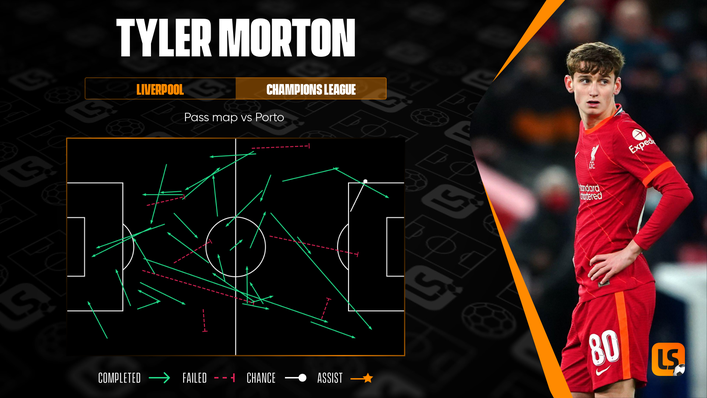 Morton played as the deepest of Liverpool's three midfielders against Porto.
It was a no-frills display from the teenager, who was more than happy to receive the ball from the back four and look to move it forward to more creative players.
He was also diligent without the ball and one notable interception in the first half cut out a promising Porto attack and drew applause from the home crowd.
There was an element of Chelsea midfielder Billy Gilmour in his game — a slight figure, happy to dictate the game from deep.
And he showed with a perfectly weighted pass to Mohamed Salah in the build up to the Reds' second goal that there is plenty of quality in his boots too.
Long way to go
Morton was back on the bench for the Reds' 4-0 thrashing of Southampton and then with the U-23s as they faced Leicester on Sunday.
Much has been made of Liverpool's failure to replace Georginio Wijnaldum in the summer — but it may be too soon to say Morton is the reason why.
There is a bright future ahead of the teenager but former England international Kevin Phillips believes the club will still look to recruit in that area.
Phillips said: "It's brilliant that he has come in and taken his chance. Liverpool have some great players coming through their academy.
"But let's be honest, it's big pressure to put on a young player. It is hard to rely on a young kid throughout the season.
"This is Liverpool we are talking about. They are fighting on all fronts this season.
"I think it would be a big mistake if a top-class midfielder isn't signed in January.
"If you go out and do that you can allow Morton to develop at the right pace rather than put pressure on him."
Before then, there is no reason Morton will not get more chances to impress.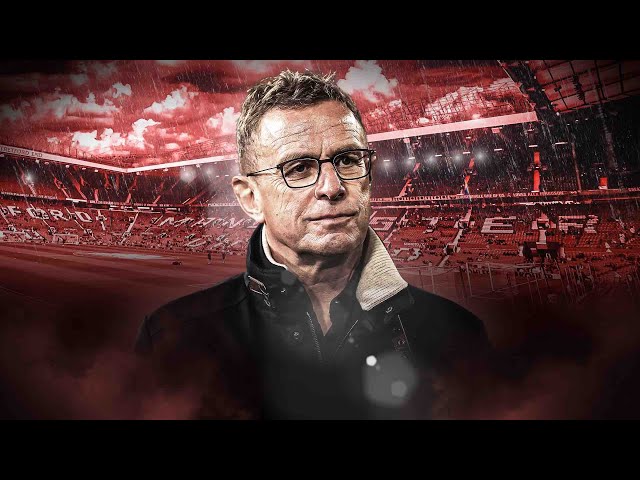 Tags