Onana accepts responsibility after howler against Bayern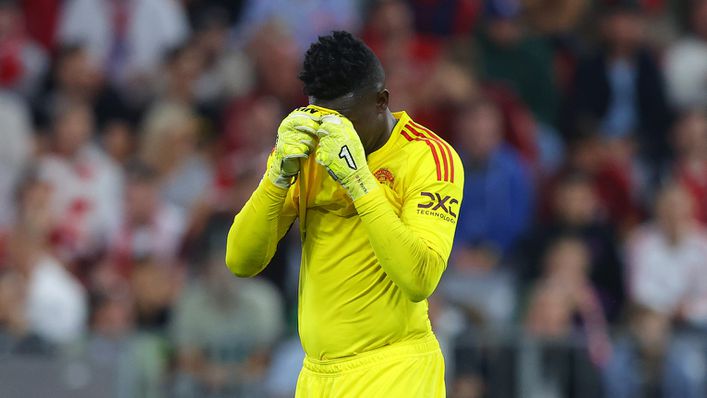 Andre Onana has accepted responsibility for his mistake during Manchester United's 4-3 defeat to Bayern Munich.
The Cameroon star allowed Leroy Sane's tame shot to squeeze underneath him for the home side's opener.
But he was quick to hold his hands up after the game, requesting to come out and speak to the media.
He said: "It's my responsibility. Because of me, we didn't win — and I have to learn from it.
"I have a lot to prove. To be honest, my start at Man Utd is not so good.
"It was me who let the team down."
The misery piled on for the goalkeeper when Jamal Musiala set up an unmarked Serge Gnabry, who fired into the bottom corner well.
In the second half, Harry Kane fired a penalty past him and Mathys Tel scored from point-blank range after a brilliant lofted ball from Joshua Kimmich.
Onana joined United from Inter Milan in July and was brought in for his ability to play out from the back but he has already made a few noticeable mistakes in the Premier League.
Former Red Devils defender Rio Ferdinand — on punditry for TNT Sports — did not hold back in his assessment of Onana's performance.
He said: "This is a nightmare scenario for Onana.
"He is as confident as you like with his feet, we were sitting there saying wow with some of his passes, but as a goalkeeper, you are paid to come in there and make saves.
"This is a great bit of skill from Sane to set it up as well, but he does not hit it with any purpose — it's not wide, it's not in the corners and Onana and his reaction afterwards, he should save this.
"It is meat and drink for him and he should be picking this up and looking for his next pass — it's a bad mistake and one that he needs to recover from."
Tags