Oilers re-sign Kane on four-year contract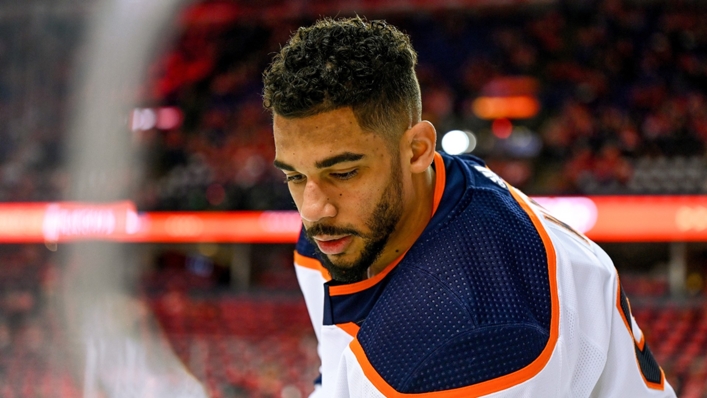 Evander Kane re-signed with the Edmonton Oilers on a four-year, $20.5 million contract shortly before the start of NHL free agency, having resurrected a career in the midst of turmoil after joining the team midway through the 2021-22 season.
Kane, who totalled 35 goals in 58 games with Edmonton when including the playoffs, announced his decision in a Twitter post late on Tuesday.
The 13-year veteran forward signed with the Oilers in January following an ugly departure from the San Jose Sharks, who terminated his contract earlier that month for violating COVID-19 protocols while playing in the American Hockey League.
Kane did not play a game for the Sharks last season due to a handful of off-field issues. The 30-year-old began the campaign away from the team as the NHL investigated accusations from his ex-wife that he assaulted her and wagered on league games, and he also served a 21-game suspension for submitting a fake COVID-19 vaccine card to the Sharks and the NHL.
The NHL announced in October that it could not corroborate the domestic assault claims and said it found no evidence that Kane gambled on league games.
"Throughout the last 12 months, there have been lots of road blocks, tons of adversity and many tough days," Kane wrote. "I'm grateful for the tremendous amount of support from family, friends, team-mates and others who have helped me stay strong through these difficult times.
"I want to thank the Edmonton Oilers for giving me the opportunity to REMIND people who I am as a player and person."
A two-time 30-goal scorer, Kane rediscovered his touch by producing 22 goals and 17 assists in 43 regular-season games with Edmonton. He was even better in the postseason, tallying 13 goals and four assists in 15 games to help the Oilers advance to their first Western Conference final since 2006.
"A big part of my decision to stay in Edmonton was because of the opportunity given to me only seven months ago but also the chance to be a part of a championship team," he said.
"I want to win, and I believe after signing this deal we will be able to add the right pieces along with myself to accomplish that goal, a championship."
Selected by the Atlanta Thrashers with the fourth overall pick of the 2009 draft, Kane has compiled 286 goals and 259 assists in 812 career regular-season games. The Vancouver native is one of seven players to have scored 20 or more goals in each of the past seven seasons.