No timeframe but Phillies star Harper vows to return this season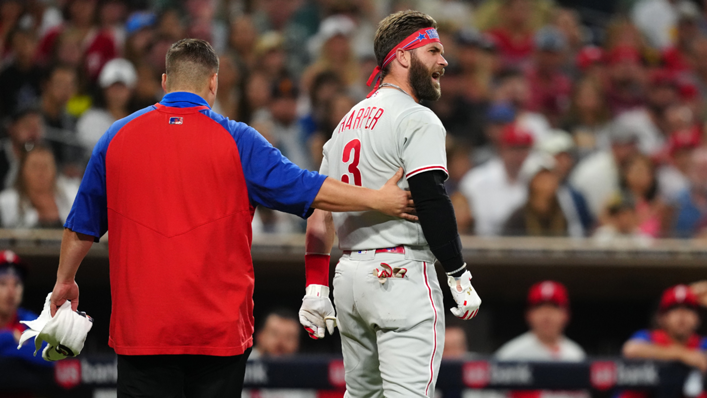 Reigning National League MVP Bryce Harper has vowed to return this season but declined to commit to a timeframe following a thumb injury.
The Philadelphia Phillies star was ruled out indefinitely late last month after fracturing his left thumb against the San Diego Padres when struck by a 97mph fastball from pitcher Blake Snell.
Harper, 29, has since had three pins put in the thumb, with his hand in a cast.
"I don't want to give anybody a timetable because I don't know," Harper told reporters on Tuesday.
"If I knew a specific date that I'd be back, I'd tell you. I just don't think it's fair to anybody.
"I'll be back when I'm ready to go."
There is hope that Harper can return as a designated hitter for the Phillies, who are currently 43-38 in the NL East.
"I don't want to hope or think about anything," Harper said.
"I just want to go day by day and be back when I can, whenever I feel healthy, whenever that is to help this team win.
"Granted, if we're out of it, I'm going to come back and play no matter what, just so I know that I can go out there and play the game. I don't want that to be my last day playing this year.
"No matter what the outcome, I'm going to come back and I'll be playing."
Harper is hitting .318 with 15 home runs, 48 RBIs and a .984 OPS this season.
Tags