New York Rangers keep their season alive with comeback win
Liam Phillips
Stats Perform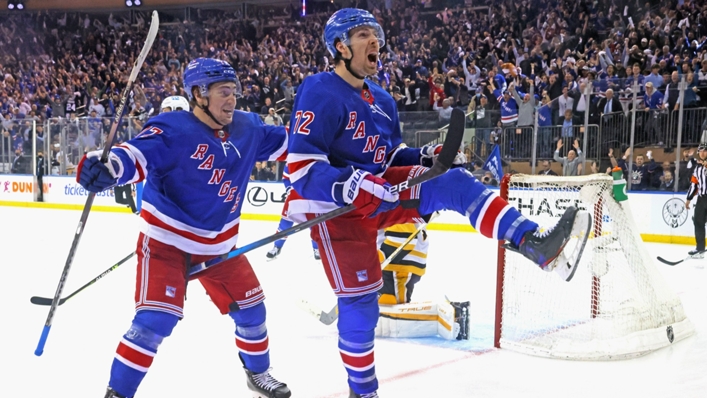 New York Rangers center Filip Chytil said his side were determined to keep their season alive as they came from a two-goal deficit to beat the Pittsburgh Penguins 5-3 at Madison Square Garden.
Trailing 3-1 in the series heading into the clash, the Rangers were hanging on by a thread after goals from Jake Guentzel and Kris Letang had the Penguins leading 2-0 eight minutes into the second period.
But the Rangers were not going out that way in front of their home fans, rattling off three goals in under three minutes courtesy of Adam Fox, Alexis Lafreniere and Jacob Trouba, although Guentzel's second tied it up at 3-3 going into the last period.
Chytil sent the crowd into raptures with a power-play goal just three minutes into the period, before Ryan Lindgren put the game to bed in the closing seconds.
Speaking afterwards, Chytil said there was a desperation to not go out with a whimper after being outscored 14-6 in the past two fixtures played in Pittsburgh.
"We were not happy with what happened in Pittsburgh," he said. "We just didn't play the whole season [the] way that we played, just [to] lose games like this in Pittsburgh.
"So we just had a good meeting, good practice yesterday, and we just believed today that we're gonna win and we're gonna go back to Pittsburgh.
"We believed, because we should have done more… we turned momentum to our side, and that was what we need."
Fellow goalscorer Lafrieniere was also complimentary of his team for the way they handled the pressure.
"We played a good 60 minutes," he said. "We defended well and played a good all-around game.
"We did a good job of staying calm. We have to keep it going and win Game 6 – [but] we played a really good one when we needed it most."
Making matters even worse for the Penguins is the fact that Sidney Crosby was forced to leave the game after suffering an injury in the second period, with Guentzel putting it plainly how important he is to the team and the gaping hole that will be left if he cannot get up for Game 6.
"We never want to see a player like that leave, but we have to find a way," Guentzel said. "[Crosby] is the best player in the world. That's a lot of minutes other guys have to take up. Next man up."
Game 6 will head back to Pittsburgh, and if the Rangers can win it, they will earn a Game 7 at home.