Ryans over the moon after landing 'dream job'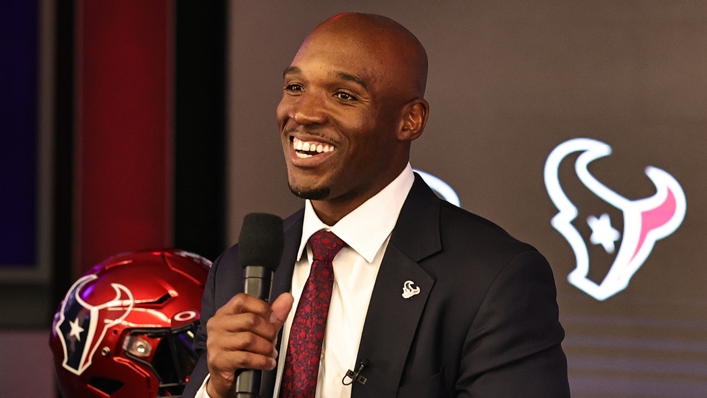 DeMeco Ryans was drafted by the Houston Texans and spent the first six seasons of his playing career clad in the club's deep steel blue and battle red uniform.
Ryans is now the head coach of the Texans, a gig he calls his "dream job".
"It's a dream job because we can win here," Ryans told reporters Thursday. "And we're going to win here by collaborating, working together and building it the right way with the right people."
Ryans will have plenty of work to do, however, to help turn around a Houston franchise that finished the 2022 season 3-13-1 and just hired their fourth head coach in four years.
"This is a young team; we were on the cusp," he said. "We got to add some pieces to what we're doing here, but I'm so excited to get started and get to work with the young guys, and to build a winning program here with the Texans – I'm fired up.
"The excitement is real, and I can't wait to get to work, to get to coaching."
Ryans' connections to the NFL's youngest franchise run deep.
The Texans selected Ryans in the second round – 33rd overall – of the 2006 draft, and the Alabama product made an immediate impact.
He was named the Defensive Rookie of the Year after amassing 126 solo tackles, still a franchise record. Ryans made two Pro Bowl appearances with the Texans and was involved in many milestones as the club matured from their 2002 expansion roots.
Ryans was there for the club's first winning season, their first playoff appearance and their first postseason win. Now he will try to lead Houston back to the playoffs after the team was a combined 11-38-1 over the past three seasons.
As evidence of Ryans' connection to the Texans, Thursday's press conference was attended by several of his former teammates, including former Texans Pro Bowlers Andre Johnson, Brian Cushing and Whitney Mercilus.
"It's outstanding. It's my former teammates that are here. It's great to see all you guys here," Ryans said. "The work we all put in together here – it means so much to me just to see you guys here and see your faces."
Ryans spent the past two seasons as defensive coordinator of the San Francisco 49ers, coaching top-three scoring defenses in both 2021 and 2022.
Ryans' performance – along with his history with the Texans – caught the eye of general manager Nick Caserio, who called the hiring a "no-brainer".
"What better person to lead this organization, lead this team, lead [our] players than DeMeco Ryans," Caserio said. "So, I think everything that DeMeco exudes as a player, exhibited as a player, he's done as a coach. His leadership is selflessness, his toughness, his team-first mindset, his charisma."
The Texans will get a chance to kick-start their rebuild this offseason as they hold picks number two and 12 in the upcoming NFL Draft.
Tags