Nagelsmann: Bayern lacked efficiency in Union Berlin draw
Joshua Challies
Stats Perform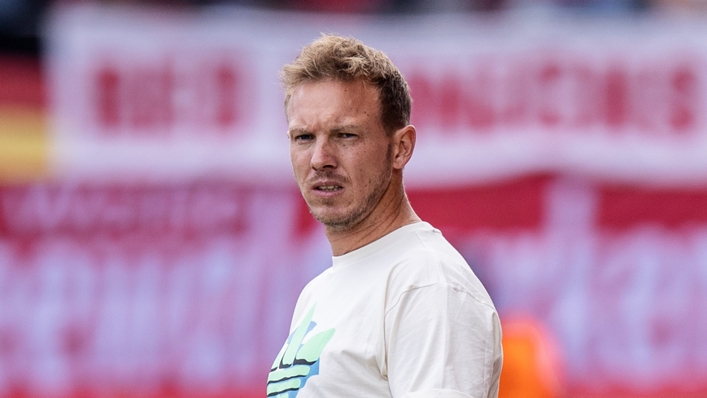 Bayern head coach Julian Nagelsmann has hit back at those questioning whether his side is creative enough, while making it clear he is not concerned by the current standings.
The defending champions came from behind to draw 1-1 with Union Berlin on Saturday, their second draw in a row after winning each of their opening three matches.
Bayern came out of the blocks flying at the start of the season, scoring 15 goals in five matches, but have lost their knack in the final third in their last two Bundesliga matches.
Nagelsmann rebuffed suggestions Bayern were not doing enough with the ball, however, pointing to the club's positive goal difference and creativity in last week's draw with Borussia Monchengladbach.
"That's a bold thing to say. We had four clear chances today. Against Gladbach we had 31 shots - I think that's creative enough," he said, "[We have] plus 14 goal difference. We just lacked efficiency and made wrong decisions.
"It was a fair result. We didn't create as many chances as against Gladbach, so we can't speak about two missed points. We were sloppy and not at the level of the past weeks. Union defended with passion, were disciplined, compact and deserved the point."
After being questioned on Bayern's third-place standing in the early Bundesliga standings, Nagelsmann made it clear it is not something he is thinking about at this stage.
"I always want to win and our aim is to win the title. We're still on matchday five, so I don't give a s*** about being third," he declared.
Bayern's sights will now be set on the midweek Champions League clash with Inter, in which Nagelsmann is keen for his squad to return to the style they showed in the opening weeks of the season.
"We should go back to the energy levels of the past weeks against Inter," he added.
"Inter play at home in the Champions League, so I don't think they will play as defensively as Union did today, although I said there are parallels between the two teams."
Tags