Nagelsmann believes Haaland could be tougher to stop than Mbappe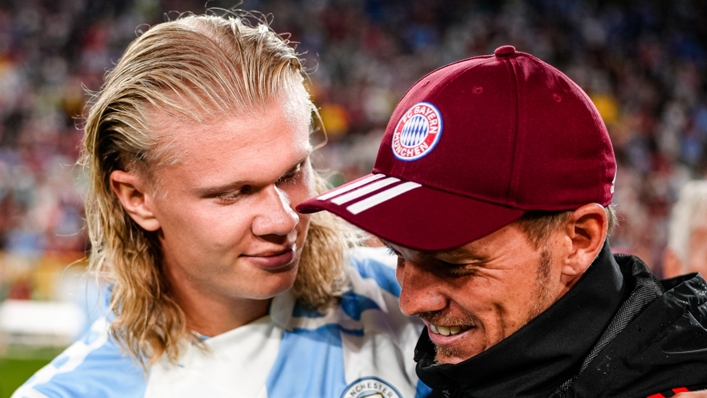 Julian Nagelsmann is excited by the opportunity to face Manchester City and Erling Haaland in the Champions League, believing the Norwegian striker could be an even tougher opponent than Kylian Mbappe.
Bayern Munich eliminated Mbappe and Lionel Messi from the tournament when they beat Paris Saint-Germain in the last 16, and were drawn to face City in the quarter-finals on Friday.
Should they progress again, Bayern will then go up against holders Real Madrid or Chelsea in the semi-finals, having already faced Inter, Barcelona and PSG in this season's Champions League.
"I think it's a very good draw, a difficult draw but I think if you win the title at the end then you would not like to hear that we were lucky with our draws," Nagelsmann said at a press conference ahead of Bayern's Bundesliga clash with Bayer Leverkusen.
"We want to win it and do it by beating big teams. We've had PSG, we had Inter and Barcelona in the group stage, so now City and then Real Madrid or Chelsea, then probably an Italian opponent in the final, it would be a triumph that would certainly send a big message to everyone.
"It's going to be difficult, we know that... we will prepare well and I think everyone is looking forward to it."
Bayern will need to handle former Borussia Dortmund striker Haaland better than RB Leipzig, who conceded five to him in the last-16 second leg at the Etihad Stadium.
"He's a tremendous player, he has great abilities... he's probably a little more physical than Mbappe and certainly comparable in pace," Nagelsmann said. "He has great heart, when he runs it's difficult to defend against him, but we also have a couple of strong offensive players."
The 35-year-old is also an admirer of City boss and former Bayern head coach Pep Guardiola, but said he does not model his ideas on the Spaniard, or indeed, any other coach.
"I saw a lot of games when he was at Barcelona, also at Bayern and City," Nagelsmann said. "I never really copied any things from him, I've never really analysed or copied anything from any other coach.
"Pep's teams are always nice to watch, he always has a nice idea to play football. [City] have a very balanced team."
Tags