Mourinho bullish about Roma's chances of top-four finish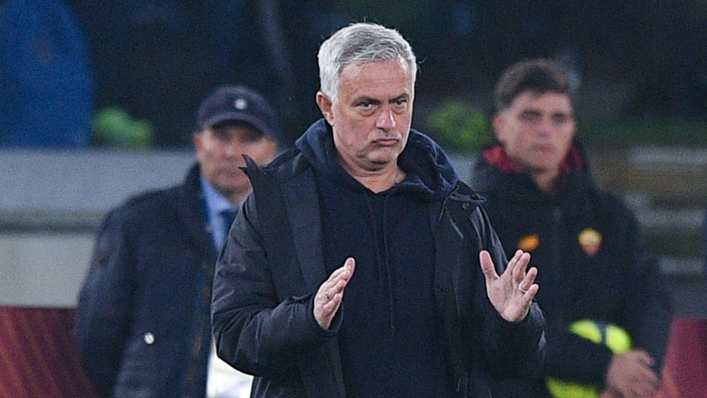 Jose Mourinho is bullish about Roma's prospects of a top-four finish in Serie A but acknowledged his team are unpredictable after their victory over Juventus.
Gianluca Mancini's second-half strike made the difference for the Giallorossi as they seized a 1-0 win over the Bianconeri at the Stadio Olimpico on Sunday.
The result moved Roma into the top four, edging out Milan with a superior goal difference, and puts them in the mix for Champions League qualification.
When asked if his team can secure a place in Europe's top continental competition, Mourinho was at pains to point out they must show consistency in their quality first.
"The problem is that you never know how Roma will play," Mourinho told DAZN. "We have to know our limits. At that point, we can play to win and bring home the result.
"In isolated matches, we can do well against everyone. But any championship is a marathon. We must always give everything to bring home the result.
"We won because the players gave 100 per cent. They won the match, not my tactical organisation. Juventus are very compact, and it was important we kept the ball."
Mourinho was poised to miss the match from the sidelines after he was handed a touchline ban, though it was suspended ahead of the fixture.
Asked whether he expects to serve it next week, the Portuguese coach sidestepped giving a direct opinion, saying: "There is a process, and until it is finished, I don't want to say anything."
Juventus ended the game with 10 men after Moise Kean was shown a red card inside a minute of his arrival late on for kicking out at Mancini.
Visiting head coach Massimiliano Allegri said he had accepted an apology from the Italy international, adding: "He made a mistake and he is sorry.
"He put the team in a difficult spot. Lessons must be learned from these things, and he had a wrong reaction. Maybe he was nervous."
Tags